Connect with our local community on Give and Gain Day
12 Feb 2014
Take this opportunity to develop your team through a volunteering activity on 16 May 2014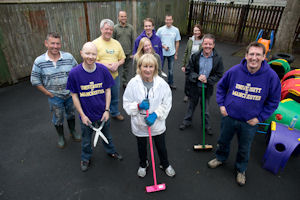 To support our social responsibility agenda, the University has become a member of 'Business in the Community' (BiTC). BiTC bring together like-minded organisations to use their ideas, talents and resources to enhance their social responsibility impact. An annual global initiative of BiTC is Give and Gain Day, which is a national day of employee volunteering. This will take place on 16 May 2014. 
Give and Gain Day connects employees with community organisations by matching them with a volunteering project. In the past, volunteers have helped with everything from school sports days to employability workshops for the long term unemployed. Give and Gain Day participants in the UK are part of a global movement of thousands of volunteers across 25 countries as diverse as Spain, Iran, Nigeria and Guatemala. 
By making volunteering accessible and inspirational, BiTC aims to support organisations to see volunteering as something that can can contribute to individual professional development and team building.
The University is encouraging managers who have already have a planned team development activity in the pipeline, or are thinking about undertaking an event, to consider taking part in a Give and Gain Day activity. This will align the University's own team development goals with the possibility of participating in activity undertaken during working hours on 16 May that benefits our local community. 
Here are 10 easy reasons why you should get involved:
People                                               
1. It's fun
2. It develops skills
3. It promotes team work
4. It inspires
Community
5. It can improve lives in our local community
6. It builds new partnerships
7. It helps where the need is greatest
The University 
8. It increases staff motivation 
9. It can enhance the profile of the University 
10. It enhances our responsibility
Getting involved
Responsibility for organising these days is devolved to individual managers, who are asked to register their interest by 17 March 2014. To register interest, find out more about local projects, and how you can participate in Give and Gain Day, visit:
You can contact Gaynor Anthony, the co-ordinator for the North West region for Give and Gain Day, on:
There is a cost involved (minimum £350 per team of up to 10 people and £35 pp thereafter) which covers insurance, health and safety, administration and all brokerage arrangements. Events do not need to take up the whole day; a range of activities is available.
If you are already planning to undertake individual volunteering activity on 16 May beyond the scope of University team development, either volunteering that you do outside work, or for example as a School Governor, you can also register your activity via the website above and join in with the global event.
More information
For further information about the University's volunteering initiative:
For further information about staff development please contact: