Do you work with students? The Working With Students Network is for you
11 Feb 2014
The second Working With Students Network event will take place on Wednesday, 26 February (2-4pm) at Simon Building, Lecture Theatre 1.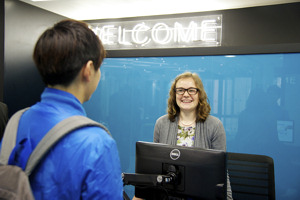 The network is targeted at all University of Manchester support staff members working in student-facing and front-line roles, from security staff, to those based at reception desks, who would like to share their ideas, experiences, concerns and learn more about topics from different areas of the University. It's also a chance to meet colleagues from a wide variety of teams and academic Schools.
The focus of the event is "What does it mean to deliver an excellent student experience?", and the session is being hosted by the Student Services Centre.
The session will focus on discussions around using basic customer service skills to ensure we deliver an exceptional experience for our students. We will explore what good customer service feels and looks like, and how we know when we have delivered an excellent service. There is also time for meeting other staff members over tea/coffee and cake.
Booking
Places are limited and allocated on a first come, firt served basis, so booking is essential:
Please complete the booking form
or
Call Emma on 52073 to reserve a place