Stand up to sexual harassment: We Get It!
06 Feb 2014
The University of Manchester and Students' Union don't tolerate sexual harassment, and you shouldn't have to either. That's why we've set up the We Get It campaign, designed to make campus a safe and welcoming community.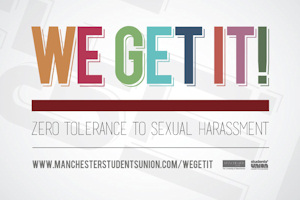 We believe that this is a hugely important issue which requires real action. That's why the University, including Dame Nancy Rothwell, Equality and Diversity, and the Executive Team from the Students' Union are all working together to make campus a safe and welcoming environment.
Sexual harassment affects everyone - both staff and students - and can include unwanted groping, pinching or smacking of your body, uninvited kisses or bodily contact. However, sexual harassment isn't just physical. Other examples of sexual harassment include wolfwhistling, catcalling, inappropriate sexual comments and sexually based insults, jokes, songs or taunts.
Harassment can happen on campus, in bars, on public transport or online. Sexual harassment can come from a complete stranger or from someone you know well.
Most people don't report harassment. Some people think that it's not serious enough, or they feel embarrassed and ashamed.
The University of Manchester and the Students' Union believe that you should never have to put up with sexual harassment, and we take all reports of sexual harassment very seriously.
We have trained Harassment Advisors that you can speak to in confidence, and you can also access other sexual harassment support services.
Take the pledge
We are also encouraging you to take the pledge to stand up to sexual harassment whenever you see it. You can sign up online at the Students Union website. You can also sign the pledge in person and take it to various locations in return for one of our We Get It bracelets.
Find out more online at:
and watch this video: