What's IT worth? Final week of the Staff IT Survey
03 Feb 2014
Make your opinion count in the Staff IT Survey, which closes on 7 February.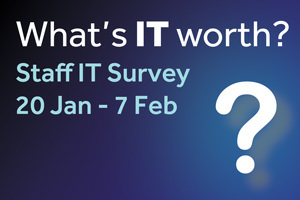 IT Services want to find out what aspects of IT matter to you and how you feel they are currently meeting your requirements. What's IT worth, to you?
The survey closes at the end of Friday, 7 February, so take part (anonymously) online now at:
Taking part also gives you the chance to enter a prize draw with a chance to win a £100 Amazon gift card.
Results of the survey will be made available around Easter.