Lenox Green is making a difference
01 May 2014
I created a Centre for our local community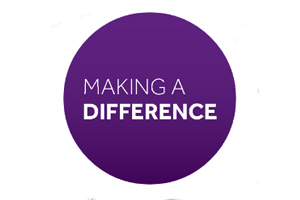 I work in the University's School of Mathematics. I combine this work with my role in the local community. My wife and I set up a community centre in Hulme Manchester that has provided support for hundreds of local young people and their families over the years and we also now run a weekly food-bank that has become an import part of many homes experiencing food poverty. We are both in full time employment and our project is self-funded with a small but dedicated team of volunteer helpers.
I became involved with youth and community projects over 30 years through church, and when I married, my wife, Heather and I started running a drugs rehab centre from our home for several  years, as well as supporting recovering addicts in rehab centres and youth hostels.  Together, in 2003, we remortgaged our home so we could open and fund the Rainbow Christian Centre in Hulme to help addicts and provide support for the local community but, after speaking with locals, we focused our attention on preventing addiction and the associated behaviour that led to it. Many families in the community have our mobile numbers and so we are available 24 hours a day.  We currently provide a free gym twice a week for over 16s.
We also run Saturday social events, do prison visiting, support court appearances, family liaison and advice on housing, benefits, education, apprenticeships and debt. There is also a Friday bible study and on Sunday mornings we provide an informal church service and run a kids Sunday School with a full breakfast on the 1st Sunday of every month thrown in for good measure.  Jesus said 'Love God first and people like you love yourself', and that's my motivation for everything I do in life.
More information
If you want to make a difference and support our social responsibility agenda at the University, please visit:
Or if you would like to share your story you can add it to: