Alison Aucott is making a difference
19 Jun 2014
I ensure a sustainable catering service on campus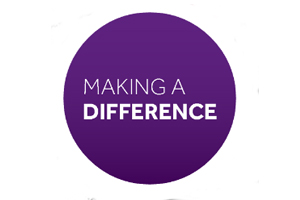 I'm Head of Hospitality and Events at The University of Manchester. I ensure that all our catering services offer healthy, sustainable catering that is produced, processed and traded in a way that contributes to the local economy, supports sustainable livelihoods, avoids damaging our planet, enhances animal welfare and provides wider social benefits.
We are a founder member of Manchester Veg People (a cooperative of Organic farmers in Greater Manchester) and, as a result, we buy as much of our salad, vegetables, fruit and eggs as we can from them. This ensures that we are using the freshest produce whilst at the same time supporting our local economy. We also only sell One Water - ethical, bottled water that donates all of its profits to fund water projects in Africa. We have Fairtrade status as a University and we commit to selling as many Fairtrade products as possible including chocolate, juice, tea, coffee, etc.
In 2013 our FoodInResidence team received a bronze Food For Life catering mark in recognition of the efforts the team makes to ensure that food is locally and responsibly sourced and healthy. We also ensure that we minimise disposable waste with our re-usable 'Hug Mugs', and support GiveMeTap (water).  The team operates a hospitality training academy with 'The Works', an organisation established by the University two years ago.
Across all of our operations, our teams recycle all the waste oil, cardboard, cans, paper, glass, batteries and plastics used on a daily basis.We also have a sustainable food policy and sustainable food action plan as part of our contribution to the University's key strategic goal to embed environmental sustainability as a key priority across the full range of our activities. We are always looking for more ways to be sustainable.
More information
If you want to make a difference and support our social responsibility agenda at the University, please visit:
Or if you would like to share your story you can add it to: