University Softball Team bring home the trophy!
21 Sep 2013
In the first ever Greater Manchester Workplace Games Softball competition played on 7 September, The University of Manchester team, brought together by Jennifer Simmons and Stephen Howard, beat off fierce competition from the Sefton Sharks, the BBC's Beebs Batters and Catchers and the Manchester Public Health Panthers to win the coveted trophy.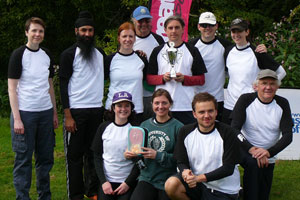 The softball event saw five teams from across Greater Manchester competing in slow pitch softball - a recreational, social and enjoyable game that's easy to learn and play.
The competition organised by GreaterSport in partnership with Baseball Softball UK, is one of three events in the inaugural Greater Manchester Workplace Games taking place this year.
Craig Anthony from GreaterSport said: "The aim of the GM Workplace Games is to get people trying new sports, meeting new people and having a good time. Softball is great sport for this with mixed teams and it's really easy to pick up a bat and get involved."
The success of the team, made up from current staff and alumni, could be deemed as something of a surprise given that, before the competition, they had never actually played a game together, although they nearly all had experience in softball. 
Commenting after their triumph, Jennifer Simmons from the University Language Centre said: "It was close at times, other teams quickly gelling and getting into the 'swing' of things. That is the nature of softball – quick to learn basics, years to master! It has been a really fun day, it's been great to bring out new people from our institution and meet the other workplaces as well. I hope to see more people down next time."
The winning team members are:-
Stephen Howard
Jennifer Simmons
Ellie Sagar
Peter Buckley
Carol-Ann Costello
Harry Somers
Julie Mellor
Baljit
Jane Mooney
Pete Wilkinson
Lewis Le Fevre
Like to Join?
If you would like to find out more about softball or are interested in taking part, please contact Stephen Howard at stephen.howard@manchester.ac.uk