University hosts first Motor Neurone Disease DNA bank
19 Sep 2013
The UK's first Motor Neurone Disease DNA bank, housed here at the University, will open its doors to the research community next month (October).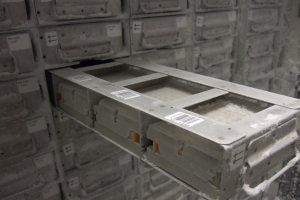 The collection – managed by the Centre for Integrated Genomic Medical Research (CIGMR) – contains more than 3,000 samples from people with MND, their families and healthy controls.
Motor Neurone Disease (MND) is a rapidly progressive, fatal disease that can affect any adult at any time. Around 5,000 people in this country are currently living with MND. Life expectancy for most people with MND is just two to five years, and around half will die within 14 months of diagnosis. The cause of MND is unknown and there is no known cure.
The creation of the UK MND DNA bank – a flagship project for the Motor Neurone Disease Association – will support greater understanding of the genetic contribution to the cause of MND. Detailed clinical information about the participants is available in addition to the DNA samples.
Dr Belinda Cupid, Head of Research at the MND Association, said: "It's a fantastic and high quality international research resource. It exists thanks to people with MND and their families, and the team of neurologists and nurses around the country who helped collect the samples."