University Living Lab working towards a sustainable future
08 Aug 2013
Since February of this year, Ross Jones has been the Lead Researcher on an UMRI-funded project entitled University Living Lab (ULL).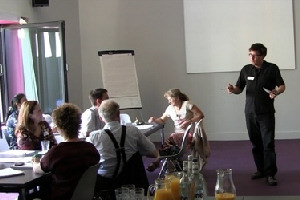 The team, led by PI's James Evans and Andrew Karvonen and featuring Lucy Millard from Estates, have been investigating ways to facilitate more collaboration between academics and PSS staff on campus sustainability projects.
The project culminated in early July with a workshop held at Manchester Museum, in which over 40 key players came together to discuss project ideas to help make the University a more sustainable place.
Talking about the workshop, a statement from the ULL team said "The level of engagement and enthusiasm on sustainability issues was evidenced by the breadth and quality of promising ideas that emerged from the discussion."
Ideas put forward included Student Sustainability Tours, the utilisation of solar power to directly supply emergency lighting, an Oxford Corridor Sense/Smell Trail and an investigation into the issues of air quality with health implications.
The ULL is now working towards institutionalising academic-PSS collaboration with a new website and formal management structure and would like to encourage anyone with information on sustainability projects being instigated around the campus to contact them so they can be added to the database.
Also, if you have an idea for a new project, contact the ULL who will be able to help identify suitable partners for your scheme and assistance in the development of your project team.
Further information
To get more information about a particular contact's area of expertise and sustainability activity, please consult the ULL sustainability Databases at: