August Cycle to Work
01 Aug 2013
The next monthly cycle ride ends with breakfast at Potter's Restaurant, Simon Building, on Wednesday, 7 August (8.15am – 9am).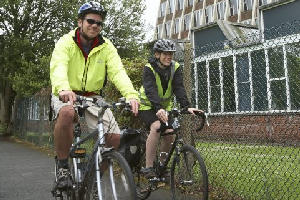 Join colleagues from the other Corridor partners (Corridor Manchester Strategic Transport Group, MMU, Central Manchester NHS Trust and RNCM) at the monthly event to celebrate cycling which rewards current cyclists and actively encourages newcomers.
All cyclists are welcome, whether they cycle in alone or with one of our volunteer buddies (see below) who are on hand to support new cyclists in their area.
There's a free breakfast at a location on the Oxford Road Corridor - this month it's at Potter's Restaurant in the Simon Building (number 59 on the campus map) - as well as updates, latest news and a chance to meet fellow cyclists.
Everybody who attends will be entered into a free raffle.
Cycle Buddies in your area
Amongst the vibrant cycling community on the Corridor, there are a large number of experienced cyclists who are willing and able to actively support cyclists in their area; this could be a 1:1 ride to or from work (at an agreeable time throughout the year), some local knowledge or general support.
Many Buddies also cycle in for our monthly event and welcome new and current cyclists to join them.
You can find your nearest Buddy or sign up to be a Buddy online at: