Friendly face for parents at University's open day
26 Jun 2013
Staff volunteer Gabriele Wegner gave advice to fellow 'empty nesters'.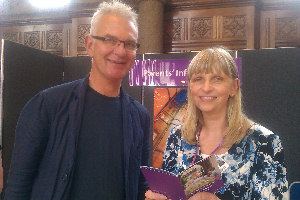 The University open day for would-be students had added value this year – special advisors for parents, whose input into their child's decision is essential and who also need support and reassurance.
Those special advisors included staff volunteers who were fellow 'empty nesters' – those who know how it feels when a child leaves home for University.
They included Undergraduate Recruitment and Widening Participation Officer Gabriele Wegner, whose daughter left for the University four years ago and whose son is about to take the same journey.
Gabriele perfectly described the double-edged sword of seeing your child leave home but for a successful and happy independent life: "You do feel sad, I did cry after dropping my daughter Helen off at Halls, but you want them to do well and enjoy themselves.
"As long as you are happy with your child's choice, you are excited for them."
Helen studied Politics at the University of Leeds and, having done her PGCE at Liverpool Hope University, has gone on to teach Politics and History at secondary school.
Gabriele's son Paul, 18, is expecting to start studying Media and Sociology at the University of South Glamorgan this year.
So Gabriele could not have been better placed to talk to parents.
"The parents have appreciated a friendly face able to answer their questions," Gabriele explained.
"Their questions have been practical rather than emotional, such as how do we get the best out of this open day from parents who have not attended one before. The questions have included what happens if the child is not happy and where do they go for help at the University?
"Like every parent, I am very keen for my children to do well and make the most of the opportunity of being at University. You just want to know how best you can help them to do that."
About 26,000 visitors registered to attend the open days which were held on Friday, 21 and Saturday, 22 June 2013.