WaterAid receives a boost from Staff Survey
26 Jun 2013
Charity receives a cheque to help give some of the world's poorest people access to safe water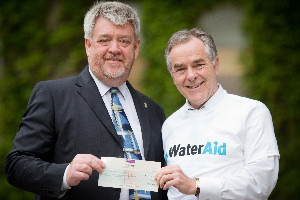 Dave Boughen from WaterAid visited the University recently to receive a cheque for £1,673 from Will Spinks, the University's Registrar, Secretary and Chief Operating Officer.
WaterAid, along with Cancer Research UK and The Christie, were chosen by staff to receive a donation as part of the Staff Survey campaign in March and April. 
For every completed survey, the University donated £1 to one of three charities – staff could choose which charity their £1 would go to.
Cheques for £2,037 and £2,666 have already been presented to The Christie and Cancer Research UK respectively, which they have put towards the 'More Tomorrows' campaign to fund the new Manchester Cancer Research Centre which is currently being built.
The University-level survey results have now been shared with staff and local-level results have been given to the University's senior leadership. 
These local results are currently being communicated across Schools, the PSS, the Library and visitor attractions. 
Each part of the University has been tasked with putting together a draft action plan by mid-July. These will be used to create a University-level action plan along with:
Faculty level plans (one action plan for each Faculty) – led by the Vice-Presidents and Deans
Professional Support Services – led by the Registrar, Secretary and Chief Operating Officer
Library/visitor attractions – led by the Deputy President and Vice-Chancellor
To see the University-level results visit: