Book the UniValet 'gleam team' treatment for your car
13 Sep 2013
Our friendly, professional team will clean your vehicle for only £5.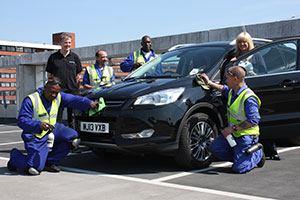 Do you hate going back to a grimy car after a day at work, but don't have time for trips to the car wash? Here's a solution: have your car cleaned on campus by UniValet while you're working.
New 'gleam team' members Derrick, David and Mark, together with Team Leader Darren, aim to deliver a high standard of service, which has earned compliments from customers and keeps them returning.
UniValet is a unique social enterprise which has been launched jointly by the University and Rochdale-based charity Petrus Community to help disadvantaged people into work.
The previous team of trainees are currently either in paid or volunteer work, or are receiving support from The Works, the skills centre established by the University in 2011, to obtain further employment at the University in the hospitality or construction areas.
The service costs from £5 per car, with a choice of morning or afternoon cleaning slot. You can pay by debit card, credit card or PayPal.
Booking
Further information