e-Science pioneer appointed to prestigious funding body
21 Jun 2013
Professor Carole Goble has been appointed to the Council of the Biotechnology and Biological Sciences Research Council (BBSRC) by the Minister for Universities and Science David Willetts.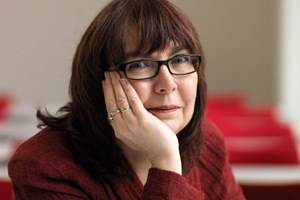 Professor Goble, at the School of Computer Science, researches the acceleration of scientific innovation through a variety of means including social, virtual environments and new models of scholarship for data-intensive science. Since 2001 she has also directed a large team of researchers, computational scientists and software engineers that specialise in e-Science.
As an applied computer scientist, she has always worked alongside other disciplines such as bioinformatics, particularly Systems Biology, and is responsible for many widely-used open source e-Science software.
She is leading activities in European e-Infrastructure for Life Sciences, has served on advisory and funding boards for ERC, STFC, BBSRC, EPSRC, Royal Society and Royal Academy of Engineering, as well as numerous oversight committees including the Dutch National Bioinformatics Centre, the EU Enabling Grids for E-Science, NERC Environmental Virtual Observatory and the Software Carpentry Advisory Board.
In 2008 she was awarded the Microsoft Jim Gray e-Science award for contributions to e-Science. In 2012 she was a nominated finalist for the Benjamin Franklin award for contributions to Open Access in Life Science.
BBSRC Chair, Professor Sir Tom Blundell FRS, said: "I am delighted with the appointment of Professor Goble, a key figure in the development of e-Science in the UK and Europe. The members' shared experiences add to a wealth of knowledge on the Council that will continue to drive forward the leading international position of UK bioscience as a foundation for the country's economic growth."