Try your hand in #Micropoem13 Competition
13 Jun 2013
The Centre for New Writing at the School of Arts, Languages and Cultures launches #Micropoem13 Competition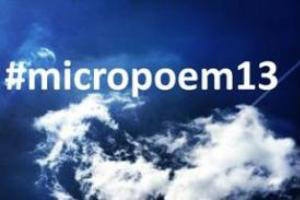 "The best words in their best order = poetry" said Coleridge; Could it be said of tweets? Try your hand in our #Micropoem13 competition
To enter the competition all you need to do is tweet your micropoem with the hashtag #micropoem13. Your micropoem must be in English and can be on any subject.
The competition will run between 17 and 24 June 2013 and prizes for the best 3 poems include tickets to Heaney & Muldoon reading at CNW's upcoming British & Irish Poetry Conference, and signed books & vouchers.
The winning micropoems will be published on the Manchester Review.
The competition will be judged by Centre for New Writing's John McAuliffe, Janet Rogerson and Simon Haworth. John McAuliffe's 3rd book is Of All Places; Janet Rogerson's 1st book is A Bad Influence Girl; Simon Haworth is doing a poetry PhD.