Manchester students return from cultural Mission to Moscow
12 Jun 2013
A group of postgraduate students have returned from the first cultural studies exchange between the University and the Moscow School of Social and Economic Sciences (MSSES).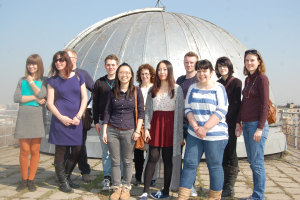 The Manchester students visited Moscow from 15 until 21 April and among them were participants from MA Arts Management, Policy and Practice, MA Art History, MA Translation and Interpretation Studies, MA Intercultural Communication and a doctoral student from Russian Studies.
And 15 MA students from Moscow came to Manchester between 29 April and 6 May. Their programme included tours of the Whitworth Art Gallery and the Manchester Museum here on campus, as well as visits to MediaCity and The Lowry. 
The Manchester-Moscow Cultural Exchange was developed as part of the Collaborative Agreement between the two institutions, led by the School of Education.
Dr Abigail Gilmore, Director of Postgraduate Taught Programmes for the School of Arts, Languages & Cultures and Senior Lecturer, said: "Volunteer student guides made a huge contribution to the success of the trip going out of their way to take students out and show them Manchester culture at its best. The opportunities for touring the host cities and for students to share and exchange their experiences and interests as part of their postgraduate studies proved extremely profitable for all students and staff involved."
PhD student Emma Heywood said: "It was fantastic to be able to experience Moscow from the 'inside', accompanied by a superb group of young and eager Russian MA students, and to catch an invaluable glimpse of their enthusiasm and pride as they presented us their fledgling cultural programmes in the 'new Russia'."