EPS celebrates its Distinguished Achievement and Teaching Excellence nominees
05 Jun 2013
The Faculty of Engineering and Physical Sciences recognised not only the winners, but also those who were nominated for the Distinguished Achievement and the Teaching Excellence Awards, in a celebration held on 23 May in Sackville Council Chamber.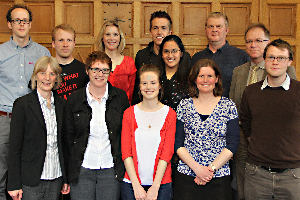 Certificates of achievement were presented to the nominees in recognition of their hard work and dedication – Engineering and Physical Sciences is a large faculty and it is indeed an impressive achievement just to be nominated.
Congratulations also to the winners who went on to the University Awards Ceremony.
Nominees
Teaching Excellence
Ian Hutt – eLearning Team
Fiona Saunders – School of Mechanical Aerospace and Civil Engineering
Teacher of the Year
Dr Grant Campbell – School of Chemical Engineering and Analytical Science
Postgraduate Research Student of the Year
Tom Shearer - School of Mathematics
Robin Preece - School of Electrical and Electronic Engineering
Undergraduate Student of the Year
Krishna Mistry – School of Chemistry
Martin Schuster – School of Electrical and Electronic Engineering
Winners
Teacher of the Year and Teaching Excellence
Dr Sarah Heath – School of Chemistry
PGR Student of the Year
Matthew Horridge – School of Computer Science
UG Student of the Year
Katie-Anne Lee – School of Chemical Enginerintg and Analytical Science