Sports Volunteers make a difference to the University and the local community
04 Jun 2013
Saying 'Thank you' to our Sports Volunteers for Volunteers Week 2013!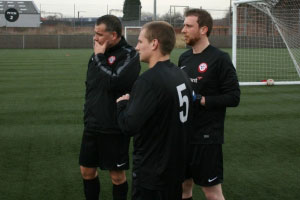 The University of Manchester has over 200 students and staff members registered on the Sports Volunteer Scheme. The scheme provides opportunities for those seeking volunteering roles in Sport as well as supporting those who volunteer on a regular basis.
Volunteers' Week 2013 will run from 1-7 June 2013 and aims to celebrate, on a national level, the contribution that volunteers make to their local communities. So this is an opportunity to say 'Thank you' to some of the dedicated volunteers on the Sports Volunteer Scheme and to recognise their hard work and commitment to making a difference.
Thank you to the following members of staff:
Pete Morris, Student Communications Officer, is an active volunteer at Street Soccer Academy which connects with hard to reach groups through football. Pete achieved an FA level 1 coaching accreditation through the charity and now provides coaching to the team. Many of the players have alcohol and drug related issues and the charity provides advice, guidance, and development opportunities in partnership with other local organisations.
  
Michael Bane, IT Services, has been integral to the running of UMBUG (University of Manchester Bike Users Group). He has been involved with organising activities for staff and students, developing links with related groups and organisations and any administration that is required.
    
Val Brennan, Senior Recruitment & Admissions Officer in the School of Physics and Astronomy, has volunteered her time on a number of occasions to assist with the running of sports events across the city. Without volunteers like Val it would be impossible to stage events such as the Manchester Marathon, Parkrun, National Track Championships and the Skyride plus many more.
    
Stephen Howard is an active member of his local softball club and dedicates his own time to coaching and completing the administration work which ensures the smooth running of the club.
Further information
If you volunteer with a local sports club and want to know what the Sports Volunteers Scheme can do for you, then contact:
Alternatively, if you are looking for volunteering opportunities, then register online at: