New Chair to honour Mathematics pioneer Sir Horace Lamb
15 May 2013
First holder Professor Oliver Jensen to give public lecture.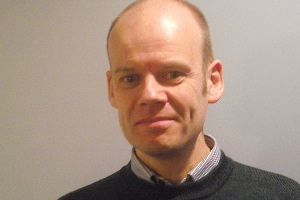 The School of Mathematics has announced the establishment of the Sir Horace Lamb Chair and its first holder, Professor Oliver Jensen.
To celebrate the School is hosting a public lecture by Professor Jensen on Monday 3 June in the Alan Turing Building.
Sir Horace Lamb is an influential figure in the development of theoretical mechanics, with his textbook "Hydrodynamics" (1895) being a cornerstone of the subject. Many important questions in fluid mechanics have been resolved with some significant contributions coming from Lamb's successors at our University.
Schooled at Stockport Grammar School, he retired after serving as a professor at Manchester for 35 years, having returned to Manchester after nearly ten years as the Elder Professor of Pure and Applied Mathematics in Adelaide.
Professor Oliver Jensen graduated with degree in Mathematics from the University of Cambridge in 1986. He took Part III of the Mathematical Tripos in 1987, winning the Mayhew Prize, and pursued a Ph.D. at their Department of Applied Mathematics and Theoretical Physics (DAMTP). He has also worked at Northwestern University, US, Newcastle University and the University of Nottingham, and came to Manchester in 2012.
A Co-Editor of Mathematical Medicine and Biology and a member of the editorial boards of the Journal of Fluid Mechanics and Proceedings of the Royal Society A, he is now researching continuum mechanics, transport processes and multi-scale modelling applied to a variety of topics in medicine and biology, which he pursues in collaboration with colleagues from diverse disciplines.
Further information and booking
For more information or to attend this event, email: