Supporting our students during Welcome Week
18 Sep 2023
Helping students to get started with their studies and develop a sense of belonging to the university community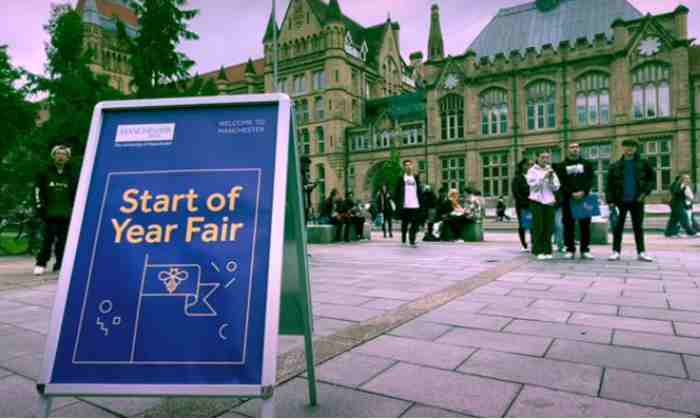 Welcome Week is here, and this year there is a firm focus on what students tell us they need to get started at our University.
From today (Monday 18 September), events will take place for all UG and PGT students at locations across campus. Schools and Programmes have organised specific Welcome and Induction activities for their students, and the Students' Union and Residences are also organising full programmes of in-person events.
Key services will be at the start of Year Fair outside University Place on Monday and Tuesday, and students can also access support to get their bank account opened, get their IT sorted and sign up with a GP during the week. Wednesday focuses on Wellbeing with Wellfest taking place as well as a range of wellbeing focused activities. The theme of Thursday is 'Living for Less' with a fair to help students explore ways to save money. 
We are also staging some targeted activities to support specific groups of students and help them engage more. These include an event for commuter students, for mature learners and for students who are parents or carers. There's also additional support for students who are care-experienced or estranged from their families and for students who have registered with DASS as autistic.
Our Welcome website is live containing information about starting at Manchester, from how to register and become a student to safety guidance on campus, help and support available, and the Welcome programme.
Supporting students during Welcome – 10 things you need to know
A Help Zone is situated on the Ground Floor of University Place.
Around 80 AskMe Ambassadors will be on campus supporting events and answering questions, with AskMe Domes sited at Brunswick Place, University Green, and outside the Library. 
In-person help is also available at the Student Support Hubs in our Schools.  
Students are required to complete a 10 step process to register through Campus Solutions.
Students can book appointments to obtain their Student Cards from the Main Library on completion of the registration process.
Students can also request a Confirmation of Registration letter via the Student Services Enquiry Form.
Students requiring a Biometric Residence Permit (BRP) card can also book an appointment at the Student Services Centre.
EU and international full-time students will be eligible to receive a Bank Letter to support an application to open a UK bank account by appointment at the Student Services Centre.
Students requiring assistance with registration can be directed to:
   10.  A number of routes are available for staff to assist students with registration issues:
Microsoft Teams: Student Finance, Directorate for the Student Experience (finance only)
More information: