Sir Andre's Life Scientific
24 May 2023
Listen to our graphene pioneer tell his story on BBC Radio 4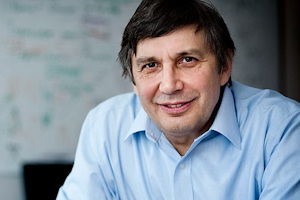 Professor Sir Andre Geim, who won a Nobel Prize after he and Kostya Novoselov isolated graphene in 2004 here at Manchester, features on this week's The Life Scientific on BBC Radio 4.
The programme is part of a series in which Professor Jim Al-Khalili talks to leading scientists about their life and work, finding out what inspires and motivates them and asking what their discoveries might do for us in the future.
Andre tells his fascinating story and pays tribute to his wife and fellow Manchester academic, Professor of Physics Irina Grigorieva.
And as "an explorer" he gives others some advice, having discovered graphene on one of his and Kostya's famous Friday night experiments: "There are many, many things to be discovered if you are adventurous.
"Just take stock a little bit, look sideways, have a coffee with your colleagues and see whether you can find some grey area where people didn't explore. Don't be afraid of that."
You can listen to the full half-hour interview at: