Alumna's gift increases number of Manchester Masters Bursaries to 100
25 May 2023
Thanks to the generosity of alumna Aline Egan, who made the decision to remember our University in her will, we are now able to increase the number of Manchester Master's Bursaries offered to talented and deserving students from 75 to 100 bursaries every year for the next four years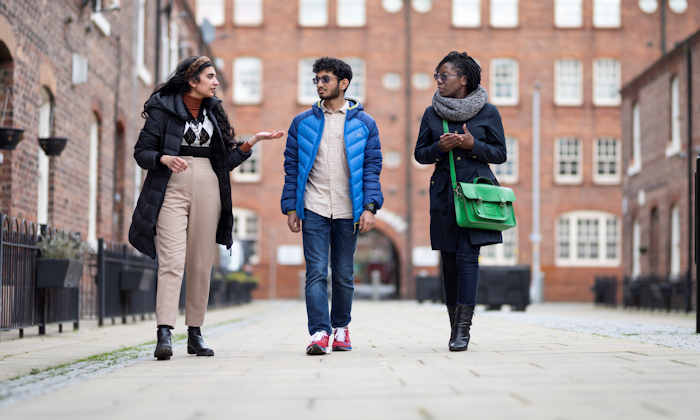 Each year, 50 of the MMB recipients will have their bursary funded by the generosity of Aline's gift. By the end of the four years Aline will have impacted the lives of up to 200 students, who will be known as the Aline Egan Scholars.
Aline's legacy
Having studied English Language and Literature, Aline graduated from our University in 1952 and looked back on her time in Manchester fondly. While studying Aline lived in St Gabriel's Catholic Halls of Residence, where she and her friends affectionately named themselves 'The Gabs Girls.' The 13 'Gabs Girls' met at Manchester but enjoyed a firm friendship throughout their lives.
Aline was a long-standing donor to our University, offering support to students suffering from financial hardship. We are extremely grateful that Aline had the far-sighted generosity to leave a gift in her will to 'support students unable to adequately finance their studies' at our University so that students from all backgrounds can enjoy the same world-class education she benefited from.
The importance of the Manchester Master's Bursary
The impact of Aline's gift will be far reaching and felt for generations to come. With the job market becoming increasingly competitive, access to the most financially rewarding, stable and fulfilling careers will be even harder to attain for those from disadvantaged backgrounds. A master's degree from Manchester can offer enhanced skills and specialist knowledge that can put graduates in a better position to compete in the job market.
Meanwhile, for aspiring researchers, a master's degree is a vital stepping stone towards a PhD and, subsequently, a career in research that tackles some of society's most pressing challenges. Thanks to Aline, more great minds will be given the opportunity to make the breakthroughs and discoveries that will benefit future generations, regardless of their social or financial circumstances.
What an incredible legacy to leave behind. Thank you, Aline.
More information:
Anyone can shape the future with a gift in their will. To find out how, visit our Gifts in Wills page.