Funding for 'greener' international travel
24 May 2023
Colleagues say our top up fund for reducing emissions is easy to access – and opens up new ways of working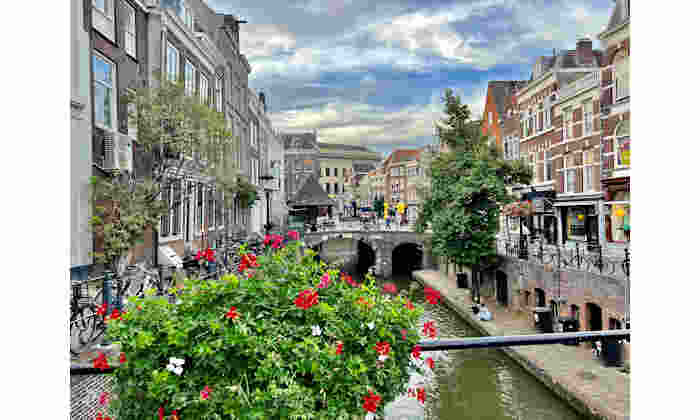 Colleagues using the top up fund to reduce their emissions from air travel say it's easy to access – and opens up a new way of working. 
Dr Abi Stone, Earth History, Palaeoenvironments and Archaeology theme champion for our Manchester Environmental Research Institute, based in Geography, worked with her collaborators to change the timing of trips to Namibia and South Africa, to make them almost back-to-back.
This arrangement cut four international flights to two and gave Abi – whose research addresses long-term environmental change and its interactions with ancient humans (speaking to UN Sustainable Development Goal 17, Life on Land) – downtime in the Namibian capital Windhoek, which she used to catch up with colleagues at the Geological Survey and write up fieldnotes.
"It also facilitated plenty of time for the export paperwork for my precious cargo of sand samples," she explained.
"I would certainly recommend finding a way to reduce the number of international flights taken for fieldwork in order to reduce carbon emissions from air travel.
"The fund was easy to access and covered all my extra costs." 
Dr Louis Major, Senior Lecturer in Digital Education in the Manchester Institute of Education, travelled to Utrecht by train to St Pancras then Eurostar for the European Association for Research on Learning and Instruction (EARLI) SIG conference. There he represented MIE's new Digital Technology, Communication and Education (DTCE) Research and Scholarship group.
"My experience was very positive, in particular the easy access to the top-up fund," he said. 
"An unexpected benefit what that I was able to work and catch up with colleagues from another university heading to the same conference on the Eurostar, in a way that wouldn't have been possible using air travel." 
Louis and Abi's travel plans are further examples of how we can reduce carbon emissions from air travel. 
Our University is aiming to limit them to 50% of our 2018/19 level (pre the Covid-19 pandemic) through a change to our travel policy. This is part of a wider project to reduce our total carbon footprint. 
Our travel policy
Our University produced 18,500 tonnes of carbon dioxide equivalent in 2018/2019 – the same as driving 2,800 times around the world in a petrol-fuelled car or 17,800 passenger flights between Manchester and New York. 
Our new travel policy addresses this and will work alongside other projects to reduce our total carbon footprint, from our buildings, fleet vehicles and business travel and from what we buy, our investments and our staff and student travel. 
We are supporting those of you who are affected by the travel policy change. This includes paying a 'top-up fund' to cover additional costs and providing full details and support on Before Travelling website. 
It is essential that we all make changes where we can as part of the global need to address climate change. Changing our policies and behaviour will make a difference to our world now and for future generations. 
Thank you for your support in this important initiative. 
More information
For full Travel Policy requirements and supporting guidance to help you weigh up essential travel against environmental cost, please visit: 
Our Travel FAQs address concerns you may have when attempting to reduce your air travel: