Wellbeing activities this May
09 May 2023
Sign up for thai chi, financial wellbeing and much more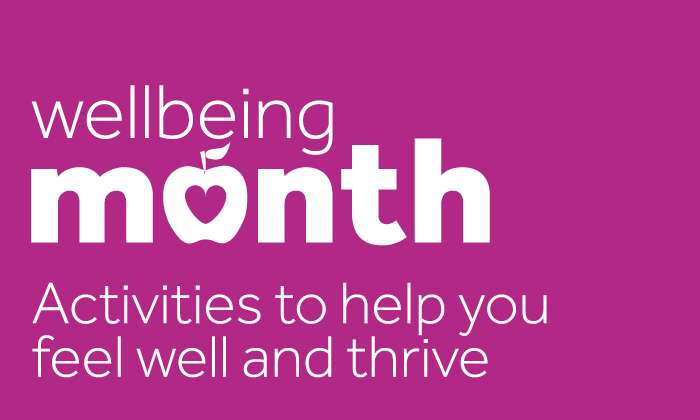 Wellbeing month provides an opportunity for colleagues to focus on wellbeing.  
As part of our commitment to colleague wellbeing, this May we are offering a free programme of wellbeing activities for everyone to try.   
Colleagues will be able to sign up for a range of free activities throughout the month, including yoga, Pilates, menopause and nutrition sessions, manager training, talks on financial wellbeing and much more.  You'll find a lot of activities will run during the week commencing Monday, 15 May, to coincide with Mental Health Awareness Week. 
Helen Brewis, Head of Wellbeing said: 'We are delighted to present a free programme of wellbeing mindfulness activities, walks and campus tours to more practical sessions like will writing. Our Wellbeing Champions have been working hard to arrange events for colleagues to take part in.We'll be sharing more events and activities in the coming weeks, so please put these dates in calendar and encourage colleagues and teams to take time out and get involved in wellbeing month. This is a great opportunity to reflect on your own wellbeing and try something new.'
Below are a selection of the events we have running during May.  
Wednesday 24 May 
Research Café: AI, Robotics and Creativity, 12 -1.30pm, Oddfellows Hall
This informal, free lunch event explores AI, robotics and creativity. Revolutionary technologies are changing the way we create, design, and interact with the world around us. Explore this topic and hear about recent research by leading University of Manchester academics including Angelo Cangelosi (Professor of Machine Learning and Robotics) Erica Baffelli (Professor of Japanese Studies) Julia Dobson (Professor of French Film and Performance) and Scott Midson (Lecturer in Liberal Arts.)
Thursday, 25 May
Introductory Taichi Qigong Sessions, 12 to 12:50pm, Manchester Museum
Aimed at people aged 50 and over
The sessions will take place in our newly opened Lee Kai Hung Chinese Culture Gallery and will be an opportunity to boost wellbeing and to learn more about the art of health preservation in China, led by teacher Feixia Yu. 
Friday, 26 May 
NCHS: Silent Spaces, 10am to 12 noon, The Whitworth
Enjoy the restorative benefits of being peaceful in a green space.  Take time out and enjoy the restorative benefits of being peaceful in a green space.  All we ask is No phones, no talking, and no cameras
More information visit The Whitworth 
Wednesday, 7 June
Menopause in the Workplace
Helen Tomlinson, Head of Talent (UK & Ireland) at The Adecco Group will discuss all aspects of menopause from the perspective of both a person experiencing peri/menopause and that of a line manager. 
More information