Exploring multi-disciplinary ageing research: guest lecture and showcase
13 Mar 2023
MICRA are delighted to announce an in-person, cross-faculty Research Showcase taking place on Monday, 3 April at the Henry Royce Institute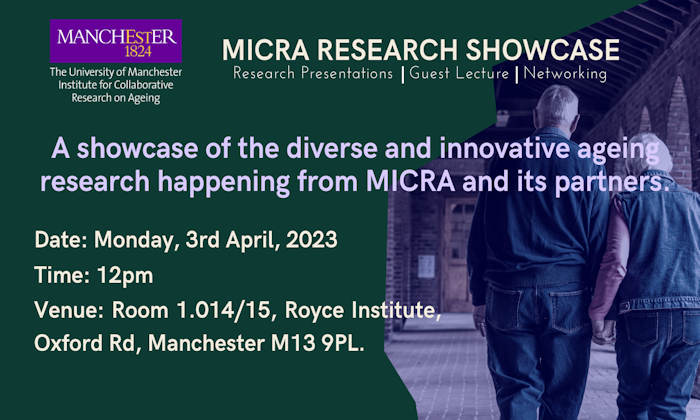 Research presentations
The showcase will feature an afternoon of presentations exploring ageing research from across Science and Engineering, Biology, Medicine and Health, and Humanities. We aim to display a varied cross-section of the research that is happening with MICRA's help at our University.
There will be lunch and refreshments throughout the day, with plenty of networking opportunities.
Guest lecture
We are thrilled that Professor Janet Lord, CBE, from the University of Birmingham will be joining us as our guest speaker. Professor Lord will be introduced by our President and Vice-Chancellor Professor Nancy Rothwell, and will give a talk on 'Human Ageing: The Good, the Bad and the Unexpected.'
The lecture will cover some of the evidence for the malleability of lifespan; how well we reach old age is influenced by a wide range of biological and environmental factors. Professor Lord will explore the latest research on extending these metrics.
Please sign up in advance to secure your place as numbers are strictly limited.
Location: Room 1.014/15, Henry Royce Institute, Oxford Road, Manchester.