Student Volunteering Week: giving back to our local communities
08 Mar 2023
From helping the homeless to landscaping improvements and much more, our students made a difference to the residents of Manchester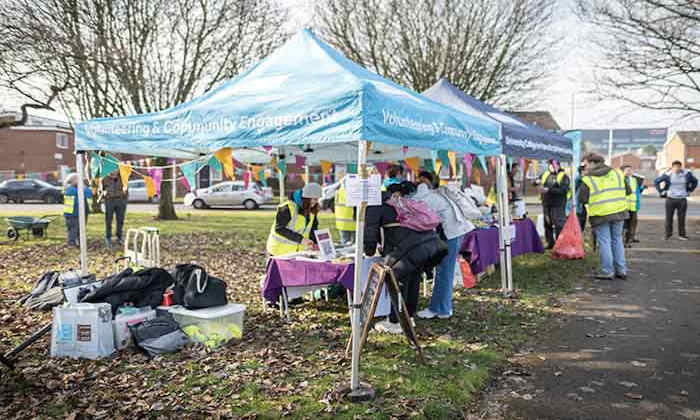 This year's Student Volunteering Week (13 - 19 February) was our first as the new Success and Development Team, which includes colleagues working in Volunteering, Stellify, Peer Support, WIT and the Student Partners programme. Student Volunteering Week is a national campaign, run at Manchester in partnership with our Students' Union colleagues.
This year saw more events than ever before with a range of community partners including Ardwick Climate Action, Medlock Primary School, Fallowfield and Withington Foodbank, and brilliant student projects such as Want Not Waste, Incredible Edible and Once a Month.
With over 600 students attending 20 events taking place across campus, as well as in Ardwick and Fallowfield, students turned out in force and demonstrated a strong desire to give back to their local communities. They worked hard to plant hedges and bulbs, cleaned up a playground, wrote cards for children in hospital, packed boxes with sanitary products, and handed out hot drinks and information on local charities to rough sleepers around Manchester City Centre. It was fantastic to see the students' enthusiasm for projects that make a real difference in the lives of those around them, as well as completing volunteering hours towards the Stellify Award.
We spotlighted volunteering on social media and thanked students by sending 8,284 eCards with the support of our Communications and Marketing colleagues. We were also featured in the Manchester Evening News.
A massive thank you to our University colleagues and the Students' Union who helped make Student Volunteering Week 2023 such a huge success!