Celebrating and recognising the achievements of our research staff
23 Sep 2022
The Research Staff Strategy Group is delighted to announce the winners of the 2022 Research Staff Excellence Awards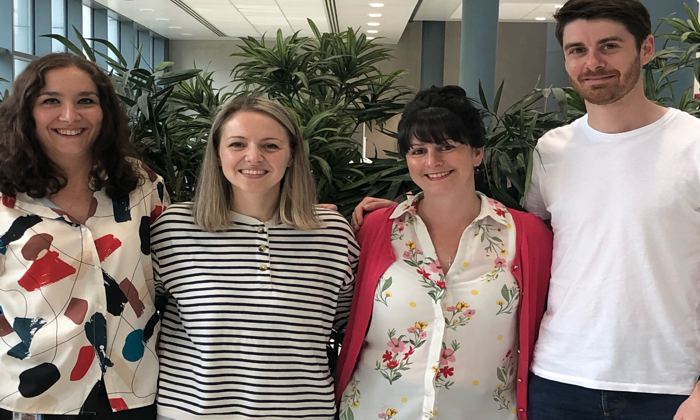 Nominations recognising researcher staff for their achievements, impact and successes were considered by Faculty panels and members of the Research Staff Strategy Group, chaired by Professor Melissa Westwood, Associate Vice-President for Research.
Professor Westwood commented: "It has been a great pleasure to read about the impactful and excellent research that research staff are leading and contributing to across the University. I am delighted to share the news of the winners during postdoc appreciation week and whilst I pass on my congratulations to the winners I would also like to thank all of our research staff community for the significant role they play in meeting our research ambitions."
Research Staff of the Year
Dr Elizabeth Camacho, Faculty of Biology, Medicine and Health
Dr Camacho is recognised for her role in leading research grant awards and impactful research on stillbirth prevention.
Dr Sophie Yarker, Faculty of Humanities
Dr Yarker has had an outstanding year of publications including a single authored book 'Creating Spaces for An Ageing Population. The Role of Critical Social Infrastructure.
Dr Qiang Yang, Faculty of Science and Engineering
Dr Yang is recognised for her outstanding research grant success as she has secured both a Dame Kathleen Ollerenshaw Fellowship and a European Research Council Starting Grant.
Best Outstanding Output
Dr Alaa Droubi, Faculty of Biology, Medicine and Health
Dr Droubi was recognised for the acceptance of a paper on novel discoveries relating to B cells in the Journal of Cell Biology.
Dr James Hodgson, Faculty of Humanities
Dr Hodgson was recognised for his impactful paper on personal lives and relationships which was published in Sociological Review
Dr Juan Fumero, Faculty of Science and Engineering
Dr Fumero has published several high profile publications in programming languages, which has led to several invitations to industry-focussed conferences.
Best Outstanding Contribution to Research Impact
Dr Matthew Carr, Faculty of Biology, Medicine and Health
Dr Carr's rapid and innovative response to COVID-19 and the publication of high impact case studies have informed COVID-19 recovery plans at a local, national and international level
Researchers in the Centre of Dynamics and Ethnicity, Faculty of Humanities
The team of postdoctoral researchers in CoDE have been recognised for their exceptional research outputs and the successful communication of their research to a wide range of policy and public forums
Dr Tom Bennett and Dr Guilhem de Hoe, Faculty of Science and Engineering
Dr Bennett and Dr de Hoe have worked with colleagues in the Sustainable Materials Institute to provide free advice, assessment and innovation to small business relating to sustainable plastic use.
University-wide Award of Best Outstanding Contribution to the Research Environment
Dr Elli Marinopoulou, Dr Gabrielle Parkinson, Dr Nicholas Scott and Dr Helen Williams 
Recognised for the development of a successful online career seminar series, which research staff have benefitted from.
Pictured: organisers of the Faculty career seminar series and winners of the best outstanding contribution to the research staff environment.