Progress on race equity ahead of the launch of EDI and People & OD strategies
04 Aug 2022
A message from Adèle MacKinlay and Banji Adewumi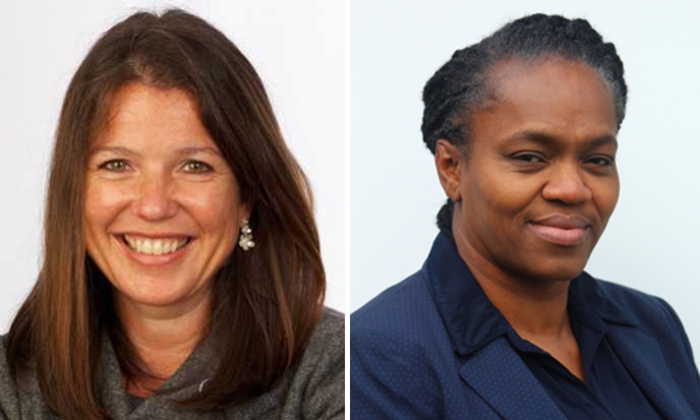 We are delighted to be moving apace with our new Equality, Diversity and Inclusion (EDI) and People & Organisational Development (P&OD) strategies. 
The Board of Governors recently approved our new strategic plans and we are now rapidly gearing up to launch them to staff, students and all our key stakeholders in the Autumn.
Our intention is for these new strategies to transform the way we approach all the challenges that we know exist across the organisation related to issues of inclusion, leadership, performance, wellbeing, culture and operational service. 
However, we have not just been waiting to get those formal strategies in place. In particular, we are very conscious of the importance of our university's commitment to race equity and inclusion and getting on and making improvements.
Given that most institutions are a microcosm of society, we recognise that it is inevitable that some colleagues and students will not have experienced a sense of belonging at our University due to the behaviour of others. This is not acceptable.
So, what has our University done so far?
It is worth a reminder that we have established an EDI Directorate, reporting to the Registrar, Secretary and Chief Operating Officer, under the leadership of Banji Adewumi to give real focus and bite to our work in this area.
We've also set out to deliver against our interim EDI strategy - Building an Inclusive University. Taking each of our four key objectives in turn, we have made important steps forward in each area of focus:
1. Our leaders and managers will lead by example, set the tone, own, and promote EDI. 
EDI Committee reports to Planning and Resource Committee (PRC) and People Committee as part of the decision-making process to provide strengthened EDI Governance arrangements.
In addition, each of the Staff Diversity Network Groups has an Executive Sponsor (a role available to members of the Senior Leadership team).  
2. We will begin embedding EDI across our University using an anti-discriminatory and cohesive approach working collaboratively and embedding a culture of empowerment, mutual challenge, and accountability. 
We have completed a review of the staff and student complaints process to improve transparency and impartiality with further recommendations to be implemented in year one of the new EDI strategy.
We now know, that 100% of complaints raised, which include an EDI issue, has advice from EDI Directorate.
3. We will build an inclusive culture where all our community of staff, students and visitors can learn, work, and live with dignity and safely. 
We have carried out listening events for hundreds of students and for staff across all facets of the University with the aim of amplifying student and staff voice. We've listened carefully and are building a stronger partnership in progressing EDI and achieving solutions to the concerns raised.
We've created readily available disability guidelines for people managers that provides clarity on legal responsibilities, reasonable adjustments, disability leave and role of DASS.
4. We will use positive action to improve the diversity of our workforce by building a talent pipeline and increasing representation of BAME staff and disabled staff at senior levels.
We've launched an Inclusive Advocacy Programme for Academics. 
Our Gender, Ethnicity and Disability Pay Gap action plans have been completed and incorporated into the longer-term EDI strategy for launch this Autumn.
Beyond those immediate actions, both the Board, and the Senior Leadership Team, have committed to a training programme in the Autumn on race, racism and white privilege.
We held a very successful first internal hybrid EDI conference, following the formation of the EDI Directorate, with over 100 people attending. A staff voice initiative has been held with Estates & Facilities staff and a joint Staff and Student Network meeting held with the President and Vice-Chancellor. Furthermore, an EDI 'deep dive' is now included in the Annual Performance Review process of the University, which is another transformational change in the way we assess our EDI progress.
We know there is much, much more to do to deliver transformational change. We have taken some important first steps and look forward to the launch of our new EDI and P&OD strategies in the Autumn, which will be the launch pad for further substantive change. 
Thank you all for your help and support with this vital work.
Adèle MacKinlay                                                                                   Oyebanji (Banji) Adewumi
Director of People & Organisational Development                      Director of Equality, Diversity & Inclusion