Inaugural showcase celebrates innovation and enterprise
28 Jun 2022
More than 80 entrepreneurs, colleagues, investors and wider support partners gathered to learn how entrepreneurial individuals have benefitted from the support provided by MEC over the last 20 years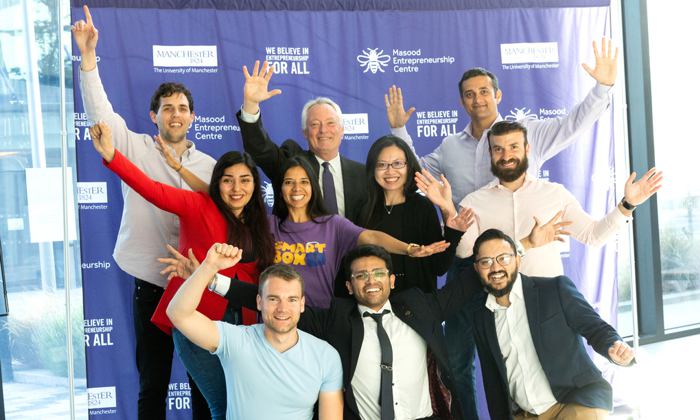 An event to celebrate the start-ups and entrepreneurial talent being supported through the Masood Entrepreneurship Centre (MEC) has been held for the first time in Alliance Manchester Business School's world-class facilities.
MEC held the inaugural showcase to highlight its work and many of the amazing start-up businesses and innovations being developed by students, graduates and staff, as well as demonstrate the range of entrepreneurship programmes offered. 
Professor Vikas Shah MBE DL, a CEO of the Swiscot Group and Honorary Professor at Alliance Manchester Business School, spoke at the event. Chairing a panel of five MEC alumni from the last 20 years, Vikas explored their entrepreneurial journeys and the advice they would give to those starting out.
Alliance Manchester Business School Honorary Professor Dr Daria Tataj, author of 'Innovation and Entrepreneurship. A Growth Model for Europe beyond the Crisis' also gave her inaugural lecture 'An Insight into Network Intelligence. How to Make Innovation and Entrepreneurship Thrive'.
Lynn Sheppard, Director of MEC commented: "We continue to develop innovative programmes that give all of our students an opportunity to engage with entrepreneurship. It is vital to equip our graduates with the confidence to 'make things happen', to help them to grasp and realise the many opportunities that their futures will bring."
Deputy Director of MEC Tony Walker said: "This showcase has given us the opportunity to demonstrate the entrepreneurial talent which is thriving at our University. 
"What's fantastic is that so many people from many different backgrounds joined together at our inaugural event. We heard from a great range of entrepreneurs with different business concepts, all of whom are at different stages of their entrepreneurial journey. All our entrepreneurs gave an insight into their companies and how MEC's wide range of support has helped them progress, including some of the challenges they've faced."
He added: "The most exciting element for me was the ASK@MCR quick fire pitching session. We're always looking for new ways to support our businesses and introduce them to potential partners."
Streamed live, ASK@MCR featured nine MEC start-ups who pitched their 'ask' to the panel of investors and business leaders, be that investment or essential connections. The start-ups ranged from a social enterprise fighting food poverty on multiple fronts, to a biotech company developing high quality diagnostics products for early cancer detection. Audience members were given a QR code so that they could get involved in supporting the entrepreneurs.
MEC has evolved into an organisation with a multi-disciplinary team devoted to the delivery of sustainable, refined and integrated on- and extra-curricular programmes to foster enterprise and encourage entrepreneurial thinking.
Ellie Buckley, Enterprise Business Development Executive and event organiser commented: "We've received phenomenal feedback from everyone who attended the Showcase. It gave our entrepreneurs a prime opportunity to celebrate what they've achieved and make some great connections."