Getty Foundation awards £48k to the Whitworth
29 Jun 2022
Created in 2018, The Paper Project funds a variety of projects by curators around the world who study prints and drawings, simultaneously boosting their professional development and bringing new discoveries about works on paper to light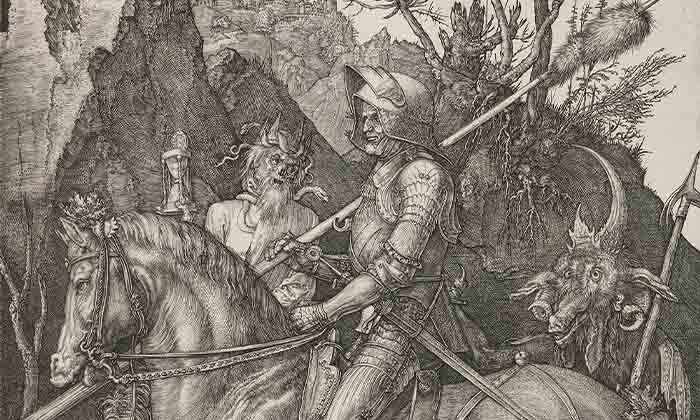 A curator at the Whitworth is one of only two UK 2022 recipients of a prestigious Getty Foundation Award. 
Working alongside University colleagues Edward Wouk, Stefan Hanß and Sasha Handley, Imogen Holmes-Roe is the Whitworth's project lead for a collaborative exhibition and publication on Albrecht Dürer's prints and the material culture of Renaissance Germany at the gallery. 
The Whitworth hosts a major collection of Dürer's work, with an exhibition currently in the planning stages. 'Albrecht Dürer's Material World', will open in 2023, and is the first major exhibition of the Whitworth's outstanding Dürer collection in over half a century.
Albrecht Dürer's Material World is a collaborative, international and co-curated research and exhibition project which will offer a new perspective on Dürer as an intense observer of the worlds of manufacture, design, and trade that fill his graphic art.
Imogen said: "I am absolutely delighted that the Whitworth has been selected as one of only 15 art institutions worldwide to receive one of the Getty Foundation's Paper Project grants for 2022.
"Albrecht Dürer's Material World represents a major development in my professional ambitions as Curator (Historic Fine Art) at a leading university art gallery. It will advance my future work in researching, interpreting, exhibiting, and developing the Whitworth's world-class collection of historic prints and drawings. This exhibition represents my first opportunity to work across the fields of history and art history with an international interdisciplinary research team based in the UK, Europe, and Australia."
The exhibition and accompanying publication (to be published by Manchester University Press) will draw on the expertise of a team of Manchester-based and international researchers who have been examining Dürer's art from the perspective of material culture studies for over three years. The team comprises established Dürer scholars, art historians, and historians of material culture: Manchester scholars Edward Wouk, Sasha Handley, Stefan Hanß and Whitworth Curator (Historic Fine Art) Imogen Holmes-Roe are joined by Australian and European researchers Jennifer Spinks, Matthew Champion, Dagmar Eichberger and Charles Zika.
Together, they have planned an exhibition that will throw new light on Dürer's interface with the material Renaissance.
Our Manchester academics Sasha, Stefan and Edward said: "We are extremely pleased and honoured to be recipients of one of the Getty Paper Project Grants.
"It's a wonderful endorsement of our interdisciplinary project and will enable the exhibition to realise its ambition to showcase the richness of Albrecht Dürer's material world with a focus on the outstanding print collection at the Whitworth. Our team, comprising academics at Manchester, Melbourne, and Heidelberg, has been researching this topic for several years."
Heather MacDonald, senior program officer at the Getty Foundation, said: "These grants celebrate the resourcefulness of graphic arts curators who are focusing on hidden gems and neglected artists within their institutions' own walls that can resonate with today's museum audiences.
"We're also empowering curators to collaborate with conservators and use cutting-edge technology to unlock paper's material secrets."
Image detail: Albrecht Dürer (1471-1528),The Knight, Death and The Devil,c.1513 The Whitworth, The University of Manchester