From the Lakes to the rainforest and back again
15 Jun 2022
Our Curator of Herpetology, Andrew Gray takes on charity hike in tribute to the woman who inspired his love of reptiles and amphibians – his Grandma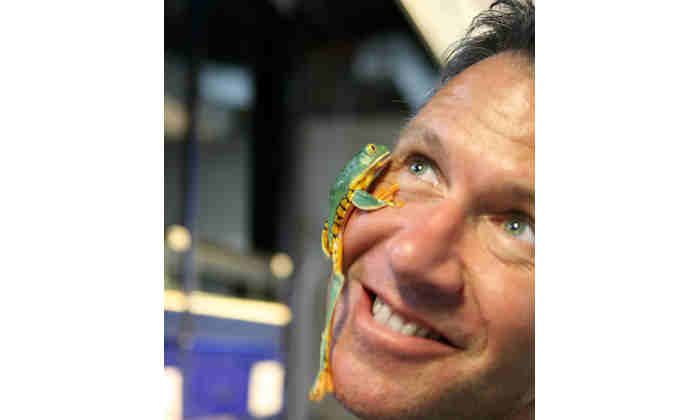 Manchester Museum's Curator of Herpetology, Andrew Gray has swapped hikes in the rainforest for a charity hike in tribute to the woman who inspired his love of reptiles and amphibians – his Grandma, Greta Massey.
Greta would take Andrew to Dale Park to look for the "legless lizard" – the slow worm, one of three lizard species in the UK, which is often mistaken for a snake.
As Andrew reminisced on BBC's Countryfile, "they're just as special as anything you'd find out in the Amazon."
Those special trips kickstarted a career that has seen him search the world for rare frogs, keeping endangered species safe – and inspiring countless schoolchildren and other visitors – at the Museum.
His last trip, before the pandemic, was a long rainforest hike in a remote area of Panama in search of the critically endangered Harlequin Frog.
Sadly, his Grandma died of cancer and it's in her memory that he's doing the Marathon Lake District Hike – 26 miles non-stop – to raise funds for the Macmillian Cancer Charity on Saturday (18 June).
"She made me what I am, and I will always remember and love her greatly for it," says Andrew.
To donate, visit:
You can also find out more at: