Manchester University Press shortlisted for the British Book Awards
19 Apr 2022
Our University press has been shortlisted for Academic, Education and Professional Publisher of the Year at the annual British Book Awards (aka the Nibbies)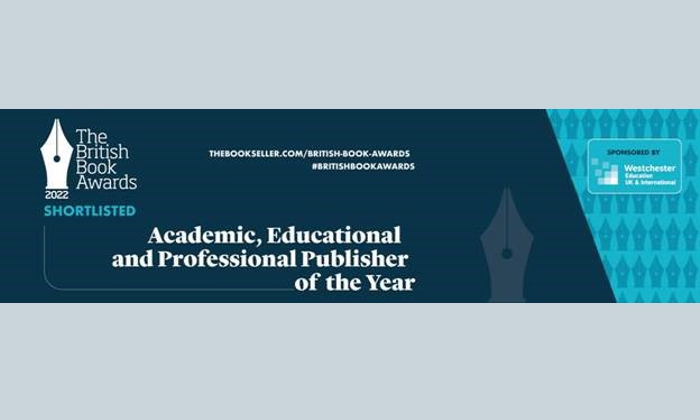 The Nibbies celebrate the book industry, including authors, illustrators and those working behind the scenes to bring exciting new books to readers.
This year's awards ceremony is at Grosvenor House London on 23 May, with a livestream ceremony for those who cannot attend in person.
The Bookseller website details the shortlist, and says: 'As COVID pushed schools and universities into new patterns of hybrid education, these eight publishers excelled in their support of learners, teachers, libraries and professionals. They delivered outstanding digital resources while showing there is plenty of life left in print too—and they were also notable for their concerted efforts to improve both diversity and sustainability across these areas of publishing.
Manchester University Press makes this shortlist for the first time. It showed how relatively small presses can adapt fastest to crises like COVID, accelerating its migration to digital and starting a popular online events strand. Timely commissioning helped raise its profile in trade and academic channels, and it piloted a new audiobook programme too.'
Highlights for Manchester University Press over the last year include:
Launching an audiobook pilot programme
Commissioning new trade books by household names: Melissa Febos; Manchester poet David Scott; and Manchester DJ, Paulette
Trade titles reviewed by the media include: Beef, Bible and Bullets: reviewed in the Financial Times (one of their Top 10 Politics Books of 2021) and Imperial Nostalgia, chosen by Sathnam Sanghera as one of The Guardian's Best Books of 2021, and one of BBC History Extra's Books of the Year 2021. 
Academic books widely recognised by various awards: Sonic ethnography – Winner of the 2021 John Collier Jr. Award for Still Photography and Winner of the 2021 ICTM Book Prize, Women art workers and the Arts and Crafts movement – Winner of the Women's History Network Book Prize 2021, Britain's 'brown babies' – Winner of the 2021 Social History Society Book Prize, Deporting Black Britons – BSA Philip Abrams Memorial Prize 2021, Bordering Britain – SLSA 2021 Theory and History Prize, Distant sisters - Winner of the inaugural Donna Coates Book Prize 2021, Dramas at Westminster - Winner of WJM Mackenzie Book Prize 2021 (PSA).
Increasing social media presence: Twitter grew to over 35,000 new engagements and launching TikTok account which has received over 16,000 views. A new content marketing section, titled 'Ideas and Inspiration' to share videos, blogs and podcasts relating to our books. In 2021, MUP author videos on YouTube were watched by 8,100 people, amassing 65.9 hours of viewing. 
Conducted a series of practical publishing webinars with independent publishers of different sizes, specialisms and regions, including Canongate, Serpents Tail and Carcanet, for students based in Greater Manchester, in partnership with Creative Manchester.
Despite the challenges of funding OA, the Press continues to produce a significant amount of content that is free to access and make print copies available for sale at affordable rates. There are now 2,250 digital books available on the publishing platform manchesterhive, of which 225 are fully open access (OA) also available on a dedicated OA site manchesteropenhive. Over the last year, more than 200k downloads have been completed of OA books from 220 countries from one platform alone.
Simon Ross, Chief Executive of Manchester University Press said: "It's always rewarding to have the recognition of your peers but to have been nominated during a period of real market challenges makes this very special, and demonstrates what an adaptable and focused team can achieve."