Daoism in China's Climate Change Policy: webinar
11 Mar 2022
Join BBC broadcaster, author and sinologist, Martin Palmer on 22 March, co-hosted by the Manchester China Institute and Manchester Museum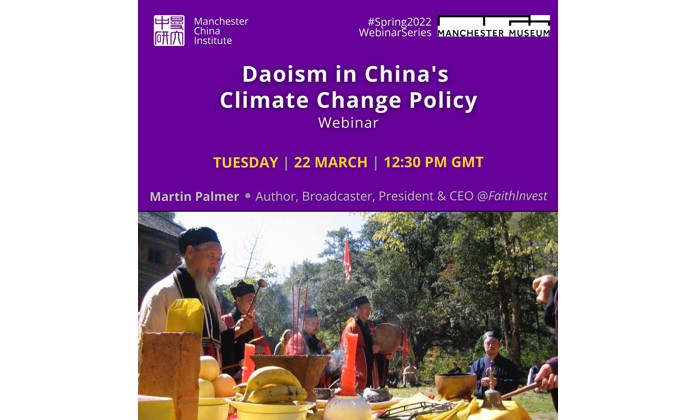 This talk will examine the unique Daoist understanding of the climate crisis and its impacts on the future of civil society action in China.
About this event
In 2009 the UN, the Alliance of Religions and Conservation (ARC), the Chinese Government and representatives of over a thousand Daoist temples, monasteries and organisations met at the ancient sacred site of Hua Shan. There, the Daoists launched their first eight-year plan to combat climate change, address bio-diversity issues and work for a sustainable environment. This event also launched a totally unique way in which Daoism expresses why the forces driving climate change are fundamentally wrong - a view which was later taken up by the UN. It also launched a whole series of practical actions across China - guided, enabled and inspired by Daoism.
In the most recent Five Year Plan of China, the Daoists have been given a central role in civil society programmes on environmental education and action – the first time any faith has been highlighted in any of the Five Year Plans. And later this year a new eight-year Daoist plan will be launched. Martin Palmer, former Secretary General of ARC, religious advisor to HRH The Duke of Edinburgh for 35 years and now CEO of FaithInvest as well as being one of the world's leading translators of Chinese classics, has worked with the Daoists on environmental issues since 1993.
About Martin Palmer
Martin Palmer was the Secretary General of the Alliance of Religions and Conservation (ARC) until June 2019. ARC was founded with HRH Prince Philip in 1995 to help faiths develop environmental and conservation projects based on their own beliefs and practices. Although ARC closed in 2019, having achieved its major goals, its legacy includes FaithInvest and WWF's International Beliefs and Values Programme. Martin is an international specialist on all major faiths and religious traditions and cultures. He is the author and editor of more than 20 books on religious and environmental topics. He has translated many ancient Chinese texts, is a regular contributor to the BBC, and is a lay preacher in the Church of England.