Huge fossilised marine reptile skeleton discovered in Rutland reservoir
11 Jan 2022
The excavation of the fossil, which is longer than a double decker bus, was co-led by Manchester's ichthyosaur expert Dr Dean Lomax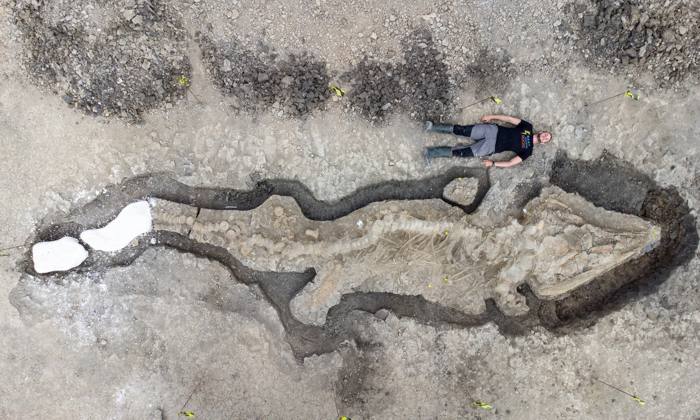 The fossilised remains of Britain's largest ichthyosaur, colloquially known as a 'Sea Dragon', have been discovered at the Rutland Water Nature Reserve. It is the biggest and most complete skeleton of its kind found to date in the UK and is also thought to be the first ichthyosaur of its species found in the country.
The ichthyosaur was discovered by Joe Davis, Conservation Team Leader at Leicestershire and Rutland Wildlife Trust during the routine draining and maintenance of a lagoon at Rutland Water in January 2021.
Dr Dean Lomax, a palaeontologist and a Visiting Scientist at our University, who has studied thousands of ichthyosaurs and named five new species, said: "It was an honour to lead the excavation and unearth this Jurassic giant from its ancient rocky tomb. Britain is the birthplace of ichthyosaurs – their fossils have been unearthed here for over 200 years, with the first finds to be recognized by science dating back to Mary Anning and her discoveries along the Jurassic Coast.
"Not only is it the largest ichthyosaur skeleton ever found in Britain, but it is also the most complete skeleton of a large prehistoric reptile ever discovered in the UK. And yes, that includes dinosaurs!"
The huge skeleton was carefully excavated in August and September 2021 by a team of expert palaeontologists assembled from around the UK, in partnership with Anglian Water, Rutland County Council and the Leicestershire and Rutland Wildlife Trust.
The excavation was led by Dr Dean Lomax and specialist palaeontological conservator Nigel Larkin, along with marine reptile specialist Dr Mark Evans and vertebrate palaeontologist Dr Emma Nicholls from the Horniman Museum who combined their curatorial expertise to record the site. 
Often mistaken for 'swimming dinosaurs', ichthyosaurs were a highly successful group of marine reptiles that became extinct about 90 million years ago. This new specimen is approximately 180 million years old and, with a skeleton measuring at least 10 metres in length and a skull weighing approximately one tonne, it is the most complete large ichthyosaur ever found in Britain.
The location of the discovery in landlocked Rutland also piqued the team's interest. In the UK, Early Jurassic rocks stretch across the country from Yorkshire to Dorset, and most ichthyosaur discoveries have been made along coastlines. Historically, major fossil finds were made at inland locations through quarrying and the creation of new roads but such finds are incredibly rare nowadays, making this new find even luckier.
In an exclusive, the excavation of the Rutland Sea Dragon was filmed for the BBC's primetime series, Digging for Britain. The episode will be screened on 11 January as part of the latest series.
Dr Lomax and the team of palaeontologists will continue to work on the research and conservation of this significant scientific discovery, with academic papers to be published in the future.
You can read more about the discovery and excavation on our newsroom site.