University to lead the way with crucial climate change campaign
21 Jul 2021
'Climate Questions' will run from September to December 2021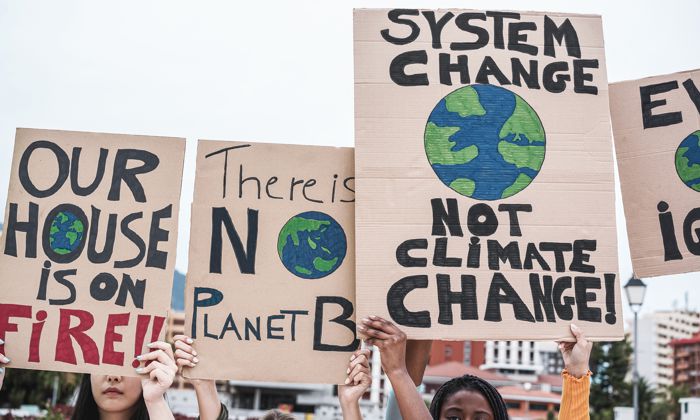 2021 could be a turning point for climate change. The climate crisis is the number one issue facing humanity; what we do now will profoundly affect the next few thousand years.
In the run-up to COP26, the United Nations' global summit on climate change taking place in Glasgow in November, our University will launch a communications campaign sharing our insight, helping to catalyse the decisive action so desperately needed.
Entitled 'Climate Questions', the campaign will provide decision makers with the information they need to know, now. From policymakers to the public, industry to prospective students, it will engage people from all walks of life, answering their questions and sharing the insight and the innovations that will empower positive action.
Crucially, the campaign will show our holistic approach to sustainability, uniting the agenda-setting work taking place across the entire University: from our sector-leading approach to social responsibility and our commitment to achieving zero carbon by 2038, to our impact on policy and industry through our world-leading research and the fact that every year our teaching equips tens of thousands of students with the skills to lead us towards a net zero future.
Running from September to December 2021, the campaign will help us demonstrate how we use our position as one of the UK's leading institutions to empower meaningful action through education while also highlighting the depth and breadth of our research expertise in this field.
Projects and initiatives that will feature in the campaign include:
a dedicated homepage hub to communicate our world-leading initiatives and research-led solutions, connecting visitors with the answers and expertise they need to empower positive action,
The University of Manchester's Festival of Climate Action, a four-day programme of online talks, showcasing the latest thinking and most relevant research in the run-up to COP26,
An aligned research communications campaign to showcase how our innovative, interdisciplinary work helps tackle the global challenges linked to the climate crisis,
The external launch of Sustainable Futures, the platform which brings together University of Manchester researchers to produce integrated, sustainable solutions,
ScienceX, a free, interactive festival of climate exploration and experiments for children, families and the wider community, led by the social responsibility team in the Faculty of Science and Engineering,
Manchester Museum's 'Roots and Branches' project, which includes the launch of a mass-training initiative on 1 November 2021 to certify 1,500 museum professionals and volunteers as Carbon Literate,
50,000 Actions, the relaunch of The University of Manchester's  10,000 Actions programme from 2017, the biggest environmental sustainability initiative in higher education, galvanising students and staff into taking positive action,
The Sustainability Challenge, which will engage 20,000+ first and second-year undergraduate and postgraduate students in an online, immersive scenario where they assume the role of future leaders, balancing environmental impact with hard social and economic decisions.
Get involved
About climate change and environmental sustainability at our University
We draw on our unique position as a world-leading institution to help ensure a sustainable planet for our future generations. Through our holistic approach to addressing the climate crisis, spanning research, teaching, social responsibility, and operations, we catalyse decisive action.
Our community of more than 600 climate change, sustainability and energy researchers drive real world impact, working with organisations ranging from the United Nations Intergovernmental Panel on Climate Change to Greater Manchester Combined Authority to transform ambition into action.  Our world-renowned research institutes, including Tyndall Manchester , part of the Tyndall Centre for Climate Change, provide centres of excellence where we pioneer unrivalled solutions to climate challenges. Our research expertise is showcased through our energy, advanced materials, biotechnology and global inequalities beacons, and our new Sustainable Futures platform provides a network for driving long lasting, end-to-end discoveries, that make a difference to the lives of people around the world.
Alongside, our teaching, staff empower our students — a 40,000-strong force for positive social change — with agenda-setting initiatives, including: the Sustainability Challenge, our University College for Interdisciplinary Learning (UCIL)'s Creating a Sustainable World course; and by embedding opportunities for students to become lifelong drivers of change, through our combination of transformational academic and extracurricular activities.
We are the world's number one university in the Times Higher Education Impact Rankings, which recognises our actions taken towards the United Nations' Sustainable Development Goals (SDGs), including Climate Action. From an operations point of view, our leadership is recognised through projects including: 10,000 Actions, the biggest environmental sustainability initiative in higher education; our position as the World's first carbon literate university; and our commitment to be zero carbon by 2038.