First Light at Jodrell Bank reaches construction milestone
13 Oct 2020
A major construction milestone was reached as the Jodrell Bank Discovery Centre's new First Light Pavilion saw its impressive concrete dome roof installed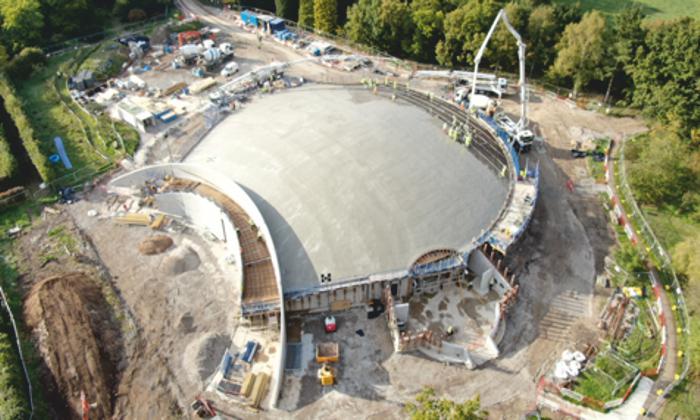 The installation was a unique accomplishment of construction and engineering as 381m3 of concrete was poured into a mould spanning 50m to create the single structure domed roof. The continuous concrete pour was the first of its kind in over 25 years and took 10 hours and 15 minutes to complete, assisted by 59 Covid-compliant operatives on site.
Ryan Southern from Kier Construction, who are leading the ambitious build, said of the moment: "The concrete pour involved a complex methodology, so we're delighted to see this important stage of the construction come together so well."
The Pavilion, designed by HASSELL and set to open to the public next year, forms part of a major new project that will share and celebrate the pioneering heritage of Jodrell Bank, the UK's latest UNESCO World Heritage Site.
Once fully complete, the new building will house an exhibition and immersive auditorium dedicated to telling the stories of Jodrell Bank. A new gallery will innovatively re-use sections of the original 1957 observation dish from the Lovell Telescope as a backdrop for displays and projections covering periods in the site's rich history from its early beginnings, through the Space Race and the Cold War, to the present day. Meanwhile, an auditorium will provide space for planetarium shows, evening lectures, film projections and cultural events.
Jodrell Bank Discovery Centre Director Professor Teresa Anderson said: "We're thrilled to have reached this milestone and are delighted to be able to see the new building take shape. The progress symbolises a new hope for the future and we can't wait to be able to welcome visitors to this beautiful new building, and share with them the stories of Jodrell Bank and its pioneering scientists."
The round, dome-like structure of the building cleverly mirrors the circumference of the iconic Lovell Telescope. Within the dome are a number of cutaways including the Pavilion's entrance built into a curved concrete wall designed to reflect the arc of the sun. Two separate walls then guide visitors in, with a single glass slot cut out at the centre, illuminating a meridian line cast onto the floor at the entrance, echoing a history of astronomy in architecture.
Diana Hampson, Director of Estates, said: "It is testament to the teamwork of all of those involved on the project that we have achieved this significant milestone in the delivery of the Pavilion. The team have faced many challenges and adopted new ways of working owing to the pandemic and it is wonderful to see major progress when many other projects have been paused across the UK."
The £20.5m project has been made possible with £12.1m of funding from The National Lottery Heritage Fund and a further £4m from the Department of Culture, Media and Sport.
David Renwick, Director, England, North at The National Lottery Heritage Fund, said: "We're excited to see the project progress and how it will enrich the stories of the site and invoke a greater sense of curiosity and empowerment in Jodrell Bank's many visitors and communities."