Response to increased infection rate in Manchester by increasing online teaching
06 Oct 2020
Important update for staff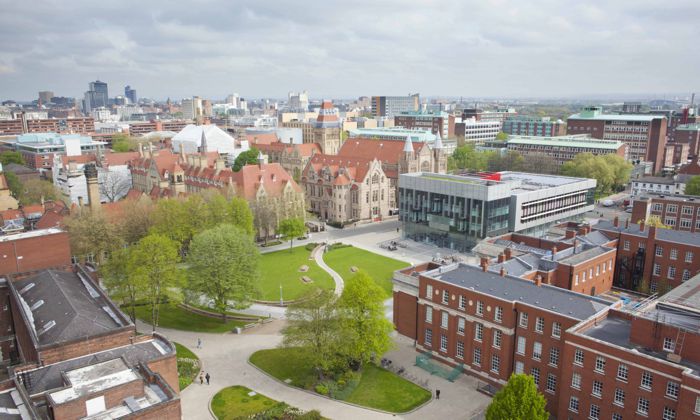 In response to an increase in the COVID-19 infection rate in Manchester and in line with our commitment to protect the health and well-being of our students and staff and the wider community, we will move to Department for Education (DfE) Tier 3 for our teaching and learning provision*. This will be implemented tomorrow (Wednesday, 7 October 2020).
In practice, this means that we will increase the level of online learning for most programmes and will retain in-person provision for some courses which, for example, include clinical and medical and some laboratory-based teaching. This change will be in place until 30 October 2020, but will be reviewed on 23 October.
Our campus remains open, research will proceed and we will continue to ensure the necessary safety precautions are in place to make any activity on campus as safe as possible. Postgraduate researchers should continue to follow existing arrangements, with remote supervision where possible.
This is a collaborative decision between ourselves, Manchester Metropolitan University, the Director of Public Health and local Public Health team, supported by Public Health England (PHE).
In addition to rising infection rates across the City, we have also been very concerned by a large number of reported COVID-19 positive cases amongst our students which we are reporting on a daily basis to PHE and publishing on the University website.
In practice these revised arrangements mean:
Teaching and Learning
We will be retaining some in-person teaching on accredited and professional programmes; for on-campus laboratory, clinical and practice-based teaching, where it is safe to do so. All other teaching will move online, including Academic Advising and most small group sessions.
Examinations
On-campus, invigilated examinations will be held only where required by Professional, Statutory and Regulatory Bodies. All other assessments will be held online.
Libraries and PC Clusters
Students and staff will have access to the libraries and study areas, although some may close earlier. PC Clusters will be accessible primarily via remote log in only, unless needed for in-person teaching.
Residential accommodation for students
Government advice is that students are strongly encouraged to remain in their current accommodation and not return to their family home or other residential accommodation. If in exceptional circumstances students wish to return home for a period, we will work with them to make sure they can safely leave the campus. We will continue to provide support for students on and off campus.
Research
Research will continue unless otherwise notified.
Working arrangements for staff
Unless required by your line manager to work on campus, you should continue to work from home. Students and staff who are defined by PHE as being highly vulnerable should discuss arrangements with their tutor or line manager.
Faculty Leadership Teams are taking decisions about the delivery of teaching on individual programmes. These details will be communicated directly to students and staff.
We recognise that this is a difficult time for our University and we very much hope we will be able to return to more in-person teaching as soon as possible because we know that this is valued by our students. As we continue to adapt to living with COVID-19, we would like to thank you for your continued flexibility and huge commitment to providing the very best for our students.
Professors Nancy Rothwell and Nalin Thakkar
President and Vice-Chancellor and Vice-President for Social Responsibility and Chair of the Campus Reopening Group
*Note
DfE Tier 3 guidance states: HE providers should increase the level of online learning to retain face-to-face provision for priority courses (for example, clinical and medical courses), and in as limited a number of situations as possible. Students should follow government guidance published as part of any additional restrictions applied locally, including where this says that students should remain in their current accommodation and not return to their family home or other residential accommodation to reduce the risk of transmitting the virus through travel. In these circumstances, providers should support students to do so by keeping services for students, such as university libraries and catering facilities, open.