FREE fitness and wellbeing sessions for staff on campus
28 Sep 2020
Safe, socially-distanced exercise classes from Monday, 28 September to Friday, 2 October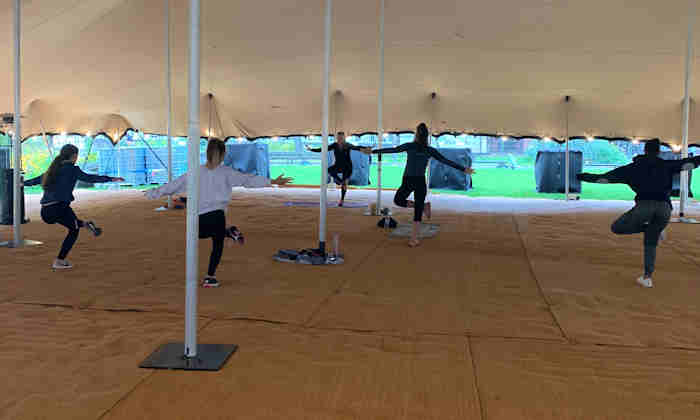 If you're working on campus, you may have seen our lovely Stretch Tent behind the Alan Gilbert Learning Commons.
Each morning, in conjunction with UoM Sport, we're offering a range of 30 minute fitness and wellbeing classes in this unique space from Yogalates to HIIT and Zumba. These are open to all staff, as well as students.
Whether you want an energising or gentle start to your day, come and join us. 
For those who prefer to exercise later in the day, we also have a number of afternoon Yoga sessions. The space is classed as outdoors but we do have a roof covering for the Manchester rain and heating for the Autumnal chill.
In the classes 2m social distancing is observed, there's free air flow with the tent open at all sides, hand sanitiser on entry and exit, and one way entrance and exit from the tent.
Tuesday: 9.45am – Zumba; 10.30am – Zumba; 1pm – Yogalates
Wednesday: 10.30am – PiYo; 4pm – Yoga
Thursday:  9.45am – Zumba; 10.30am – Zumba; 1pm – Yoga
Friday: 9.45am – Yogalates; 10.30am – PiYo
Please bring your own mat (not required for Zumba) and come dressed for a workout.