Celebrate Manchester Pride at UoM
05 Aug 2020
As expected there will be no Manchester Pride parade this year, but that does not mean we cannot celebrate the LGBTQ+ community at our University and beyond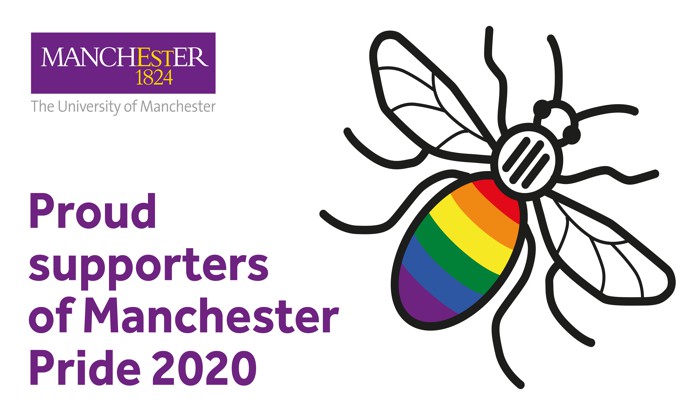 There will be plenty going on that everyone can still be involved in.
ALLOUT, the LGBT Staff Network Group has been working hard to ensure we can still mark this important month that is well celebrated at the University every year.
Here's just a taste:
ALLOUT Allies training: moved online to Zoom!  Not an ally yet?  Why not sign up here: ALLOUT Allies
Pronoun Promotion: Have you updated your email signature to include your pronouns?  Or your Zoom Profile?  August is the time to do it!  Listing pronouns helps remove another barrier for our non-binary and trans communities, which is why it's important that people include their pronouns on their profiles as well.
Zoomtastic background: we have a specially designed virtual background for your zoom meetings – just mail lgbt@manchester.ac.uk and we'll send it to you.  Or you can download it: Zoom Background
Messages of Support: throughout August you'll be able to see various messages of support from our Senior Leadership Team.
Pride 'construction' social: open to everyone!  We might not be constructing a float this year, but we'll be constructing something just as enjoyable during our interactive get together.  To be added to the invite, please message lgbt@manchester.ac.uk
Queer Tales: Myth and Magic is a family friendly digital drag show, co-curated with Cheddar Gorgeous, one of Manchester's most celebrated drag queens and will include artistic responses to Manchester Museum's collection by an international cast of drag performers. It will be premiered across the Museum's digital platforms on Thursday 27 August. The performance will explore both ancient and modern mythologies through a queer eye. The reworking of myths and monsters from marginalised perspectives is not only a reminder that LGBTQ+ people have always existed, it is also a powerful way to challenge patriarchal narratives and to celebrate the queer experience. This event will be followed up with a panel discussion the week after.
There's something for everyone and we hope you can participate in something – even if it's on social media retweeting our activities #UoMPride @UoMLGBT