Fanaroff Lecture 2020
12 Feb 2020
Tickets available for second Fanaroff Lecture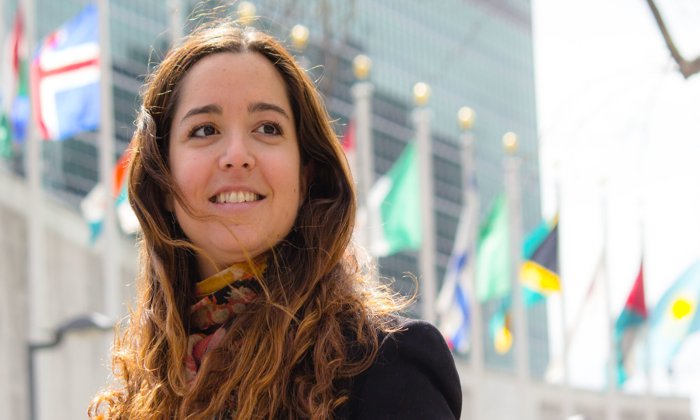 The second Fanaroff Lecture will be held on Wednesday, 19 February at 6pm in the Samuel Alexander Building. This has been organised through the DARA Big Data project, funded by the Newton Fund and led by Professor Anna Scaife. The Fanaroff Lecture is a public lecture and is intended to raise the importance of science communication for policy within the scientific community.
This year we are delighted to have the inspiring Dr Marga Gual Soler as the speaker for the Fanaroff Lecture. Dr Gual Soler will talk about the role that scientists have to play in international relations and policy, her own career path and her vision for how the global science community can most effectively engage with policy makers.
Following her PhD in Molecular Biology, investigating the role of protein trafficking in organ development and cancer, Dr Gual Soler joined the United Nations with an ambition of bridging the worlds of science and international policy. Since then Dr Gual Soler has led the development of science diplomacy globally, advising multiple national governments and the EU on science diplomacy strategy and training thousands of young scientists and diplomats around the world in this emerging field. Notably, Dr Gual Soler was responsible for overseeing the landmark cooperation agreement between the American Association for the Advancement of Science (AAAS) and the Cuban Academy of Sciences in 2015. She has recently returned from the largest-ever all-women expedition to Antarctica to promote the role of women in science diplomacy and climate action.
The Fanaroff lecture is free to attend, however to ensure we do not oversubscribe we need to ticket the event. If you would like to attend please do make sure you register via Eventbrite. We expect this to be a very well-received and informative lecture.
The lecture is named for famed astronomer Dr Bernie Fanaroff, in recognition of his extensive work with the unions in South Africa, his work in government, and his advocacy in championing the Square Kilometre Array (SKA) project and the MeerKAT radio telescope not just as scientific endeavours, but as an important component of building economic growth and national recognition for South Africa. We are delighted that Dr Fanaroff will be present to introduce this year's lecture.