Office 365 email and calendar transfer starting soon
16 Oct 2019
As you may be aware, our staff and postgraduate researchers will be moving to Microsoft Office 365 during 2019 and 2020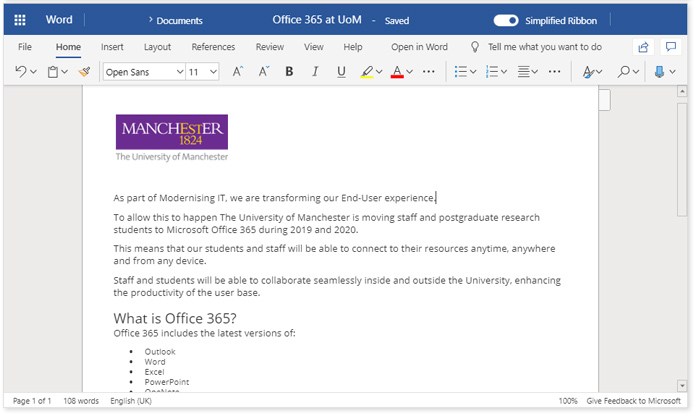 This means that our students and staff will be able to connect to their resources any time, anywhere and from any device.
Office 365 includes newer versions of the applications you work with regularly, such as Outlook (including desktop and web app), Word, Excel and PowerPoint, with the addition of Teams for collaborative working, and OneDrive for cloud storage.
Back in July, we invited colleagues to sign up as an 'early adopter', to get interested parties set up on Office 365 and ask for regular feedback. More than 350 people have registered their interest, and now we've moved a small group of colleagues in IT Services successfully, we plan to move the email and calendars of approximately 160 early adopters from across the University to Office 365 during October and November.
Access to Teams and OneDrive will come later in the year.
These colleagues will receive a series of emails from IT Services' End User Computing (EUC) team with details in the run-up to the transfer. If you've not received a message yet, we haven't forgotten you; we'll be in touch when we plan to transfer your account.
More detailed information can be found on our Office 365 web pages: