Senior Leadership Team Appointments
27 Jun 2019
Professor April McMahon to be Vice President for Teaching, Learning and Students and Professor Nalin Thakkar to be Vice-President for Social Responsibility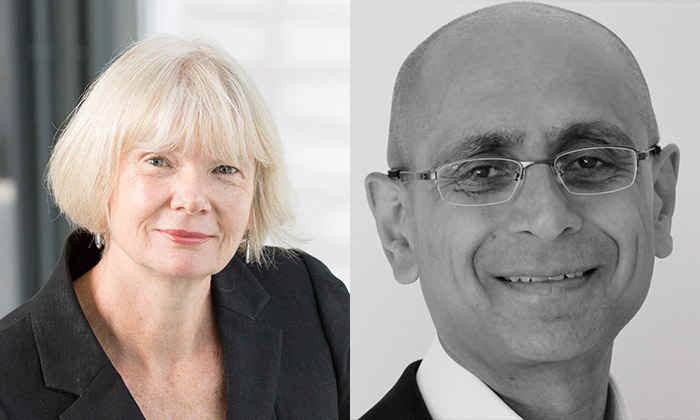 The University is pleased to announce that after a competitive and international recruitment process from an exceptional field of candidates, we have appointed two highly talented and experienced leaders to join our Senior Leadership Team:
Professor April McMahon – Vice-President for Teaching, Learning and Students
Our appointment to the role of Vice-President for Teaching, Learning and Students, is Professor April McMahon, who is currently at The University of Kent,  where she is Deputy Vice-Chancellor Education and Professor of English Language and Linguistics in the School of European Culture and Languages.
April was born in Edinburgh and grew up in the Scottish Borders. She was first in her family to go to university, and took her MA and PhD at Edinburgh – where she was very proud to be awarded an Honorary Doctorate in 2014.
April was a Lecturer at the University of Cambridge and a Professor at Sheffield, and from 2005-11 returned to Edinburgh where she was Head of the School of Philosophy, Psychology and Language Sciences; Head of the College of Humanities and Social Science; and then Vice-Principal for Planning, Resources and Research Policy.
From 2011-16 she was Vice-Chancellor of Aberystwyth University, where major priorities included improving the student experience, and re-valuing teaching, partly through ensuring appropriate recognition and reward for teaching excellence and innovation.
April's academic field is linguistics. Her research interests include how and why languages change; the use of computational methods to group languages into families; the evolution of language in humans; and the history of varieties of English and Scots. She has published 11 books and a wide range of articles and book chapters.
April is a Fellow of the British Academy, the Royal Society of Edinburgh, and the Learned Society of Wales, and is currently a member of both the Audit Committee and the Research and Higher Education Policy Committee of the British Academy. She has a lively interest in training and development, especially relating to career development and leadership; she also chaired the Vitae Advisory Group for the Researcher Development Framework. With a strong commitment to enhancement of education and the student experience, she is Chair of the TEF Subject Pilot Humanities Panel and a member of the Subject Pilot Main Panel.
She is an Honorary Fellow of Selwyn College, Cambridge, and a member of the Board of Trustees of The London Academy of Music and Dramatic Art (LAMDA)
Speaking of her appointment to The University of Manchester, April said: "It's such an exciting time to be joining the University as the new vision and strategic plan are being developed to build on existing achievements in teaching and learning and take the University forward.
"I very much welcome the challenge of shaping the future of teaching and learning at such a great university and I am really looking forward to engaging with colleagues to enhance the student experience and opportunities for all our students, on campus and worldwide."
April will take up her role on Tuesday, 1 October.
Professor Nalin Thakkar – Vice-President for Social Responsibility
Nalin Thakkar, our current Associate Vice -President for Risk, Compliance and Research Integrity, is appointed to the University's Senior Leadership Team as Vice-President for Social Responsibility.
Nalin is a clinical academic who has been associated with The University of Manchester for over 40 years. He undertook his undergraduate and postgraduate studies at the University. After serving as lecturer and senior lecturer, he was appointed to Chair of Molecular Pathology in 2003 and Associate Vice President for Risk, Compliance and Research Integrity in 2010. He is also a Consultant Histopathologist at the Manchester University Hospital NHS Foundation Trust and leads a specialist head and neck histopathology service.
Nalin has previously served as the National Advisor to the Health Research Authority and as a National Research Ethics Advisor to the National Research Ethics Service. In 2015, he was appointed to serve as a Non-Executive Director of the Health Research Authority by the Secretary of State for Health. Nalin has also previously served as an Interim Executive Board member of a primary school in Manchester and is currently on the Board of The Walton Centre NHS Trust on Merseyside. He was listed in the top 50 most influential BAME public sector leaders in the UK in 2017 by 'Inclusive Boards'.
Commenting on his new role, Nalin said: "I feel honoured and excited by the prospect of serving the University in this crucial role, supporting one of our three core goals as an institution.  Never has social responsibility and sustainability been more important to us and society.  The University contributes in so many ways – from our world-leading research and climate science to providing more school governors than any other organisation in the UK. I am really looking forward to developing social responsibility even further within the new strategic plan."
Nalin Thakkar will take up his new position on Sunday, 1 September.
Our President and Vice-Chancellor, Professor Dame Nancy Rothwell said of the new appointments: "I am truly delighted that we have appointed two exceptional Vice-Presidents to join the Senior Leadership Team (SLT). Both April McMahon and Nalin Thakkar bring a wealth of talent and expertise to their portfolios and I look forward to working with them. We have a brilliant combination of being able to draw upon long-serving expertise from our University and an external perspective from an exceptional leader from another higher education institution.
"In congratulating our new colleagues joining SLT, I also want to thank Professors Clive Agnew and James Thompson for their huge contributions to the University and to wish them all the very best for their futures."