Get ready for autumn commuting with these helpful cycling tips
26 Sep 2018
Autumn is on its way bringing darker evenings and mornings and colder, wetter weather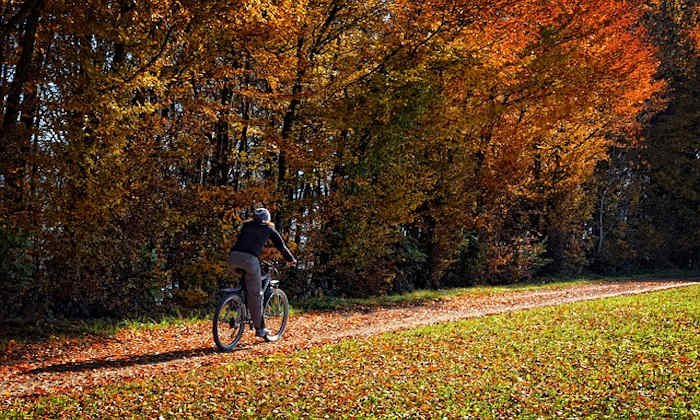 Some cyclists will be putting their bikes away but with the right preparation autumn can be a wonderful time of year to commute to work.
Here are a few tips to help you continue cycling through autumn whatever the weather.
Prepare
Check the weather forecast the night before and get all your kit together so you're not dashing around in the morning trying to find your waterproofs or lights.
It's also worth keeping a spare set of clothes in your office if you can, just in case you get caught in unexpected rain.
Bike
More regular cleaning is important, especially the chain and drivetrain components as the muck you pick up will act to wear the cassette and chainrings.
Check your tyres are properly inflated. This helps stop mud, which can conceal all sorts of sharp nasties, being picked up and sticking to your tyres.
Carry a spare tube – it's much quicker than a repair kit or a long walk in the rain.
You should think about mudguards, if appropriate, to protect yourself and other road users from spray.
Clothing
Autumn weather can vary significantly day-to-day and also morning to evening so can be difficult to plan for.  Layering up is the best approach and a selection of waterproofs can also prove useful including jackets, trousers and rucksack covers.
Clothing with hi-viz and reflective detailing will make you more visible and eye-catching to other road users in low light conditions.
A thin balaclava or hat to keep your ears warm and gloves that are wind chill and rain resistant are good for frosty mornings.
Staff can buy safety equipment, including reflective clothing, through the University's Cycle to Work Scheme and if you already have a bike the accessories-only package may be a good way to prepare for autumn.
Lights
It's the law!  Battery powered or USB chargeable, work out the best ones for your journey.  Travelling along roads lit by street lights you will want 100 lumens or more but for darker routes much brighter lights (300-400 lumens) will help show up any obstacles.
The environment
When riding in the autumn, fallen leaves can be a problem, as they tend to aggregate at the sides of the road where you want to cycle. When wet they are slippery and when dry they can hide potholes and nails, so it's a good idea to keep away from the kerb. 
You could also consider cycling into work and getting the train home if there's a convenient one near your home.
Join in the conversation on UMBUG Facebook with your own tips or simply to pick up some advice to make your cycle to work enjoyable this autumn.
Further information: