Wellbeing: Why Mike's riding the Purple Wave
07 Feb 2018
Veteran runner and proud owner of a mechanical heart valve says exercise has literally kept him alive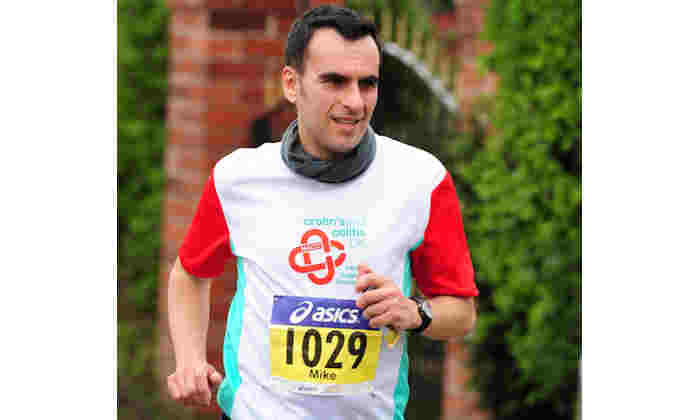 University media relations officer Mike Addelman is riding the University's Purple Wave – our very own part of the Great Manchester Run – in a defiant salute to exercise.
"Running and cycling are deeply important to me. They have literally kept me alive," explains Mike, 52, who has been at the University 12 years.
"I've had a lot of health issues to deal with over the past year or so.  I am the proud owner of a mechanical heart valve which I received after a six-and-a-half hour operation in September 2016, and had a couple of other operations as well. I also care for my wife Sarah who is very poorly. So it's been a considerable challenge to keep running."
But running has always been important to him: "I love running – I have competed in three marathons, dozens of half marathons and of course the Great Manchester Run!"
Mike will be raising funds for The RiffRaff Society at the Great Manchester Run, which this year takes place on Sunday, 20 May.
He explains: "It's run by volunteers who believe in direct community action and fundraise for any Greater Mancunians who facing genuine hardship.  Mark, from the Riff Raff, has been coming to our house to work on my wife Sarah's beloved  garden,  as that's something she isn't able to do any more."
But besides the obvious health benefits and the boost to local causes, running with his colleagues lifts Mike's spirits.
"It's a fabulous way to join with our wonderful University community – which is why I'm also involved as an organiser as well," he says.
"It will reinforce what it means to part of an incredible organisation, bursting to the seams with talented and gifted people."
Ride our Purple Wave
The Great Manchester Run takes place on Sunday, 20 May and includes a 10k and ½ Marathon.
The University will once again be aiming to have its very own Purple Wave start time in the 10k, engaging over 3,000 runners.
For the first time ever, there will also be the opportunity for people to enter free of charge, raise funds to support Undergraduate Access Scholarships and to take their next step and try the ½ marathon distance.
More information
For more information, visit:
Any other questions can be directed to:
Or follow us on twitter:
For further information on the free fundraising places, contact:
Your way to Wellbeing
You can also visit the University's Wellbeing website:
To donate
To donate to Mike's cause, visit: