Alumni volunteer wins prestigious CASE Europe award
07 Sep 2017
Hian Seng Tang recognised for promoting the connection between the Asia-Pacific region and our University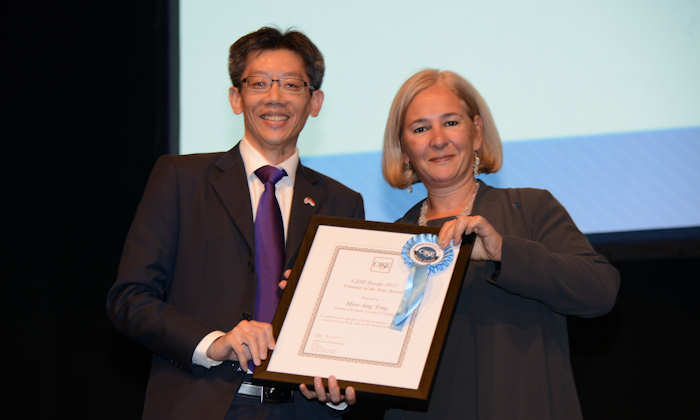 A member of the Alumni Association Advisory Board (AAAB) and former President of The University of Manchester Alumni Association Singapore, Hian Seng Tang (BEng Electronic Engineering 1999), has been named CASE Europe Volunteer of the Year 2017. The award recognises his outstanding achievements in promoting the connection between alumni from the Asia-Pacific region and our University.
Hian Seng was nominated for the award by Professor Dame Nancy Rothwell, President and Vice-Chancellor, and Kate White, Director of Development, who commented, "Hian Seng has showcased his remarkable leadership skills by fostering a new-found dynamic in the alumni group in Singapore."
When he learnt of his award, Hian Seng said, "I'm really honoured and humbled to win the CASE Europe Volunteer of the Year Award 2017 and keeping our Manchester flag high! This award is definitely a collective team effort from Team Manchester. 
"The overseas experience in Manchester and the academic success I achieved as a student in UMIST helped shape my character and instilled self-belief and confidence to reach targets. Hence, after graduation, it had always been in my heart to want to serve and contribute back to the University for greater causes.
"My special thank you and appreciation to the Singapore alumni committee team and advisers, our alumni association Patron, Deputy Prime Minister Mr Teo Chee Hean, and colleagues at the University."
CASE (the Council for Advancement and Support of Education) is an international association serving educational institutions. This is the second time that one of our alumni has received the Volunteer of the Year Award, the first being Rory Brooks CBE (BSc(T) Management Sciences 1975, Hon LittD 2010), Chairman of the University's Global Leadership Board, in 2015, who, together with his wife Elizabeth, supports the Rory and Elizabeth Brooks Doctoral College in the Global Development Institute. 
Pictured: Hian Seng receiving his award from CASE President and CEO Sue Cunningham.