Honoured for work to promote fungi
18 Apr 2017
Husband and wife team are first to receive British Mycological Society national award for education and outreach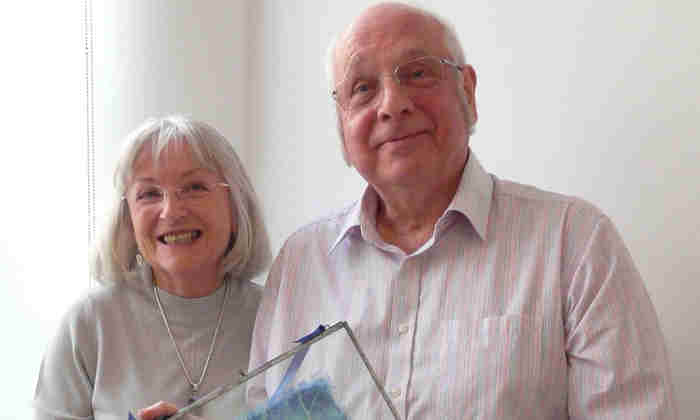 Husband and wife team David and Elizabeth Moore have become the first recipients of the British Mycological Society's national award for outstanding contribution to Education and Public Outreach. 
David retired as Reader in Genetics in our Faculty of Life Sciences in 2009, after 43 years' service in the University of Manchester. 
He and Elizabeth were largely responsible for pioneering the British Mycological Society's Roadshow in the 1990s, beginning the Society's outreach and education work beyond the realm of universities and amateur mycological groups, and into schools and colleges, science fairs and, particularly, the Royal Horticultural Society's Flower Shows at Chelsea, Malvern and Tatton Park. 
They've since continued to share their enthusiasm and knowledge at events in the local area, including Jodrell Bank Discovery Centre, and with several recently-published books and the informative World of Fungi website. 
The award celebrates the life and work of people who have helped to spread their love and knowledge of fungi to audiences who may have had little or no previous knowledge of this important kingdom of organisms. 
The couple's award is a bespoke piece of artwork that reflected an aspect of David's research, which dealt with the cell biology and development of fungi, with a focus on the ink cap Coprinopsis cinerea.  His drawings and photographs formed the basis of an artwork produced by Marilyn Caruana, the leader of the Stitching Botanicals Group at the National Botanic Garden of Wales.
Dr Ali Ashby, BMS Fungal Education and Outreach Chair said: "David and Elizabeth Moore's contribution to Fungal Education and Outreach in the last thirty years is unparalleled. 
"Their determination, drive and enthusiasm is an inspiration and we hope to be able to continue their hard work through our own outreach initiatives to raise awareness of fungi in the public and educational arenas."