Fabrics inspired by cancer research go on display in Manchester
04 Aug 2016
Cancer patients, University scientists and fashion designers have worked together to create an intriguing exhibition with a difference, which has been on display in Manchester as part of European City of Science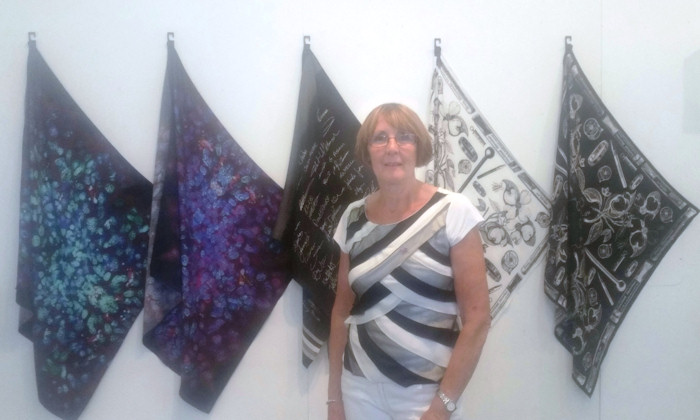 The show, held at Craft and Design in the Northern Quarter, aimed to celebrate pioneering progress in helping to beat cancer sooner, and to take scientific research to a different audience. Informal workshops pairing designers with scientists and cancer patients led to the creation of the beautiful scarves and dazzling textiles.
Dr Sonja Andrew, senior lecturer in design, created three scarf designs each telling part of the cancer research story. One incorporates images from medical history - from the days of using sterilized horsehair to stitch wounds, to the chemical structure for the breakthrough breast cancer drug tamoxifen. Researchers in Manchester helped to show how effective tamoxifen was and the best way to use the drug. The drug has saved the lives of millions of women around the world.
Lindsey Waterton Taylor, lecturer in woven textile design, created a series of works entitled 'Reproductive Future', based on experiences of research into cervical cancer. Kathryn Downey, also from The University of Manchester, made scarves inspired by work taking place in the laboratories at the newly opened Manchester Cancer Research Centre.
Other exhibits included works by visual artist and University design lecturer Victoria Wheeler, who captured one patient's cancer journey and love of Manchester United with works entitled 'Staring at the ceiling', 'What's happening in my world?', 'What happens now?' and 'Dear patient'.
Sive Finlay, Research Engagement Manager at the University's Cancer Research UK Manchester Institute, said: "Manchester is famous as the birthplace of the textile industry and for cancer research, with radiotherapy techniques pioneered here still in use today. Most of our mills are now tourist attractions, but Manchester still has Europe's largest cancer centre and a world-leading research Institute working on the treatments of tomorrow. We wanted to do something different to explain the important research happening here in a new way."
Watch this video of the exhibition: