Bluedot festival - through the eyes of one of our staff
26 Jul 2016
Amy Parkinson, Social Media Co-ordinator from the School of Arts, Languages and Cultures, tell us about her weekend at bluedot festival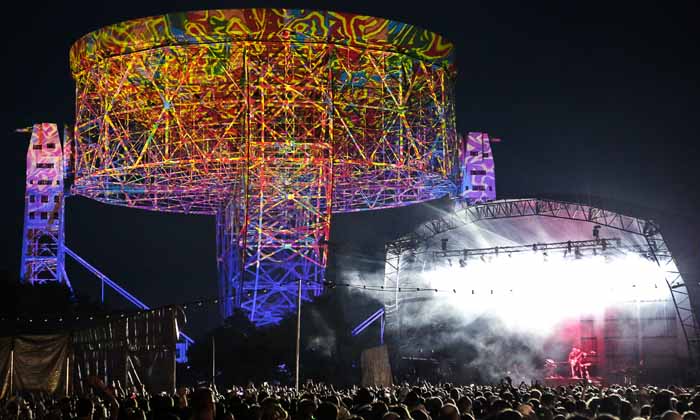 I have been excited about bluedot festival ever since the moment it was announced. A fresh new festival held in the grounds of the world-leading Jodrell Bank Observatory, just outside of Manchester.  
The main telescope at the observatory is the Lovell Telescope, which is the third largest steerable radio telescope in the world, built back in 1957, it looms heavy on the horizon, and can be seen within miles on approach. As soon as this masterful piece of engineering came into our view, I could feel the excitement mounting.
After checking in, we took our first wander around the site. The overall layout felt good. Nothing too close together, but everything within a short walkable distance. The vibe was upbeat and 'cosmic', lots of space-themed outfits and many a fine beard knocking around! 
The first night, we were treated to a performance on the Lovell stage, from 80s electronic powerhouse, Underworld. 
Fresh from the release of their recent studio album, they took to the stage and put on a show that Professor Brian Cox, himself would have been proud of. My personal highlight was techno anthem 'Rez', purely because they kept true to the original, rather than trying to spice it up with a dodgy remix, which, disappointingly, other DJs are renowned for doing. As predicted, they finished with their 90's 'Trainspotting' anthem - 'Born Slippy'. There was so much bass, that I was sure, at one point the telescope above, was shaking! Great start to such a unique festival.
Saturday, we explored the festival grounds and admired the beautiful gardens, complete with interactive exhibitions for all ages. We wandered directly up to the Lovell telescope and were overcome by its sheer size. Impressive stuff considering it was built over 70 years ago and is still a world-leading scientific piece of kit. Even now, it would fit comfortably into any modern day art exhibition. We relaxed by the main stage and listened to the beautiful Lanterns On The Lake, with the Royal Northern Sinfonia. 
Later that evening, we checked out the legendary DJ Shadow, at the Orbit stage. DJ Shadow is pretty much the ultimate electronic Musician. A pioneer, and role model to many. He played all his own beats and tracks with impeccable timing and precision. Even though world-famous, he has stayed humble and on many occasions, thanked the crowd for coming to see him. What a nice bloke.
Headliner for the main-stage was French composer, performer, and music producer Jean-Michel Jarre. JMJ doesn't really need much of an introduction, he is a pioneer in the electronic, ambient, and new-age genres, and to put it lightly - puts on one hell of a show! 
We stood back from the stage slightly, to get the full effect from his infamous light-show. Brian Eno did a terrific job of lighting up the telescope with psychedelic colours which complemented Jean-Michel's set. 
What we admired most about bluedot was: it wasn't a music festival held at an observatory, it was an educational science festival with great music. It attracted the right kind of people, with the right kind of attitude, which created an excellent vibe. It's not easy landing artists such as Underworld, JMJ and Caribou alongside world-leading scientific speakers, but all of them expressed great interest and honour in being a part of it.
Who knows who will turn up next year?
Photography credit: Chris Jones
Website: mrjonesphotographer.com
Facebook: www.facebook.com/PhotographerMrJones