Help care leavers celebrate Christmas in style
09 Nov 2015
Donate money, gifts or your time to our Chancellor Lemn Sissay's ambitious – and very personal – festive project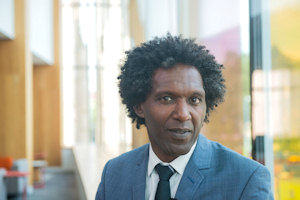 The Christmas Dinner 2015 – an initiative to give Christmas dinner to care leavers, founded by our Chancellor, the poet Lemn Sissay – needs your help.
'Care leavers' are young people and adults who have grown up or spent a significant part of their lives in foster care or children's homes.
Lemn, who was himself a care leaver, founded the initiative in 2013. He and a team of artists, adult care leavers and social care professionals work together to provide the most scrumptious dinner and gifts on Christmas Day to young care leavers, aged between 16 and 30.
"Many care leavers are sat in flats, B&Bs and hostels, away from family, or sofa surfing and some are indeed living on the streets on their own at Christmas. Christmas is a reminder of everything they never had. I know because I've shared their experiences," says Lemn.
"But since 2013, thanks to Crowdfunder, many generous people have been able to pledge money instead of buying or receiving Christmas presents. So we can put on a scrumptious Christmas meal and create a magical day to remember.
"The Christmas Dinner will be a life-changing and life-saving experience."
While this is a personal project for Lemn, he also supports the range of University work to support young people who have experienced time in care as part of its Social Responsibility goal.
This year the University's Directorate of Estates and Facilities is providing the secret venue for The Christmas Dinner in Manchester, while some of our colleagues have been part of the team since its inception.
People are able to gift aid each pledge, with the money going to Pure In-Sight, a charity in Stockport that provides year round support to care leavers.
Get involved
To give your support, visit:
Share via Twitter and Facebook and encourage your friends to do the same
To find out more about how you can get involved, by donating gifts, non-perishable food or your time in advance or on the day, or to learn more about how the University works with looked after children and care leavers year-round, contact University colleague and initiative volunteer Emma Lewis: