Disabled Staff Network makes its mark with a conference 'first'
17 Jun 2014
"What Are We Hiding?", the first national conference for the UK's disabled workforce, organised and hosted by the University's Disabled Staff Network, has recently taken place on campus to enthusiastic feedback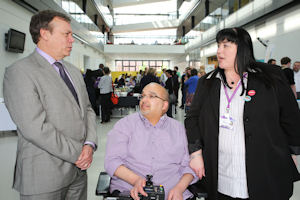 On Friday, 6 June 2014, the spacious Atrium of the Alan Turing Building provided a striking backdrop to "What Are We Hiding?" – an exploration of the double theme of "hidden" disabilities and the "hidden" contribution of disabled employees to the nation's economy. This was fully supported by the University and sponsored by AI Media UK and Osmond Ergonomics.
The conference was opened by Professor Clive Agnew, University Vice-President for Teaching, Learning and Students, and Senior Leadership Champion for the Disabled Staff Network.
This was followed by various sessions/workshops led by: Mental Health Foundation Speakers' Bureau; DWP on Access to Work; NUS; NAS; Bipolar UK; The University of Manchester's Counselling Service; Stroke Association with a stroke survivor; IMH; mADDchester; and GHT. 
Dr Hamied Haroon, from the Institute of Population Health, and Anna Charles-Jones, a Learning Development Adviser at Manchester Metropolitan University, jointly led a session on Disabled Staff Networks based on their experiences of chairing such a network at their respective institution.
Tom McAlpine OBE, a renowned speaker in the field of mental health, delivered the keynote speech to an audience of more than 80 delegates.
Melanie Sharpe, from IT Services, and Hamied Haroon co-chair the Disabled Staff Network. The Network formed a Steering Group for this conference, which Melanie chaired. Speaking during lunch, Melanie said: "It seems to have gone very well so far. People have been very impressed by what our Disabled Staff Network has achieved and a number have asked to be added to our distribution list, so that they can attend our meetings and find out more about our organisation and activities."
Hamied added: "This has been an absolutely fantastic day! We have worked so hard for years to plan, organise and prepare this ground-breaking event. We've received so much praise and positive feedback throughout the day. This made all the stress and toil well worth it! I'm so proud of what we've achieved. I hope we will do something bigger and better for disabled staff in the future. Manchester has made its mark again!"
Ngozi Ugochukwu, who was attending from the BBC at Media City, said: "The conference has gone well and has given me an opportunity to find out about other disabilities – which can afflict any of us at any stage of our lives."
Gill Cockburn, Disability Adviser at the University of Bradford said "I just wanted to congratulate you on an AMAZING conference … The programme was brilliant. I am very confident in saying that it was the best conference I have attended in the last 15 years in this role …"
Some of the online feedback received already:
"The attention to facilitating those with disabilities was fantastic and I commend you for your attention to detail which is really important."
"Please make this an annual event …"
"Fantastic – even down to my food intolerances. Please do this again – perhaps over 2 days next time to allow us to do more of the talks ..."
"The Conference was outstanding in my view, as it gave me information on disabilities that are seldom covered."
"Congratulations and very well done to everyone involved. This was an amazing event."
Further information